BLOG

: Live from New York, it's the Chieftain Stars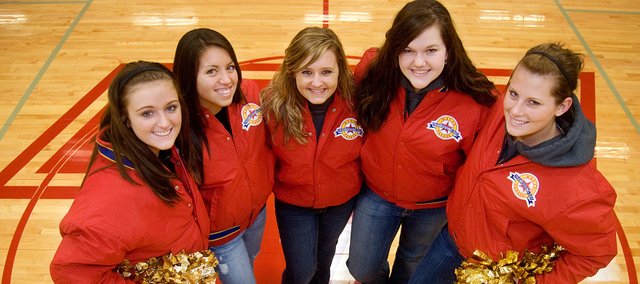 A few members of Tonganoxie High School's dance team, the Chieftain Stars, are in New York City to perform in the Macy's Thanksgiving Day Parade. THS junior Kayla Jackson and seniors Shelby Maxon, Sarah Diekmann, Taylor Davis and Danielle Henderson are in New York all this week. Read about their experiences in this blog:
Saturday, Nov. 21
From Taylor Davis:
I went to bed at 12:30 a.m. and woke up at 2:30 a.m. to head to the airport. We got to the airport and checked our luggage in, to find that someone had stolen my cell phone off the top of my suitcase. I was standing next to the luggage, and someone stole it right off! I was really glad my mom was going with me to calm me down, and let me use her phone.
In the afternoon we landed in NYC. We checked into the hotel and went around the city. We shopped in Times Square and just enjoyed the day. At night we had our first rehearsal from 7-10 p.m. With nearly 800 girls, it was mass chaos for awhile, but wow! It was so amazing to just experience this!
Sunday, Nov. 22
From Taylor Davis:
Waking up in the morning at 6 a.m. was pretty hard for us. With jetlag, and being just plain tired, we didnt move too fast. By 9 a.m., we were in rehearsal again, parting at noon for lunch and then back to practicing until 5 p.m. This was our tough day for rehearsal, but it was well worth it. The dance is really coming together now, and we are so excited.
Monday, Nov. 23
From Taylor Davis:
This morning we had the chance to sleep in a little. At 9:30 we are going to Times Square to shop and then off to the Statue of Liberty!
From Shelby Maxon:
Tonight we went to Herald Square to have rehersal. All of us are really excited for Thursday now. It really hit us when we actually got to reherse where we will be performing. Today we had a free day to hang out with our sponsors and we got to go see the Rockettes perform at the Christmas Spectacular. We went to Chinatown and Herald Square to do some shopping. It has been a lot of fun just hanging out and looking at all the different things here in NYC. It is definitely different than Kansas. We also went to the Empire State Building tonight and we were able to see the entire city. It was amazing! Tomorrow we get to do more shopping and we are going to see Ground Zero. Then we have our last rehersal from 2-5 p.m. and we have a dance class in the evening. It's been a lot of fun so far and we can't wait to perform on Thursday!!!
Tuesday, Nov. 24
From Shelby Maxon:
We've learned that our group will be the opening performers for the parade. We will be wearing long white sleeve turtle necks with red stars on them and white skirts. Well be using red and silver poms as well.

Wednesday, Nov. 24
From all Chieftain Stars members in NYC
Today we went shopping some more and then had our last rehersal. It went really well besides some girls rudely running into us during transitions but we worked through it. We are all getting very excited to perform tomorrow!!! We have to be up at 4 a.m, Breakfast is at 5 a.m. and then off to the parade to be in line by 7:15 a.m. The parade starts at 9 a.m. EST so 8 a.m. for eveyone back home. It's on NBC. Hopefully you guys will be able to see us on TV. We miss you all!