Chieftain Stars on parade
Dance team members to perform at Macy's Thanksgiving Day event in
NYC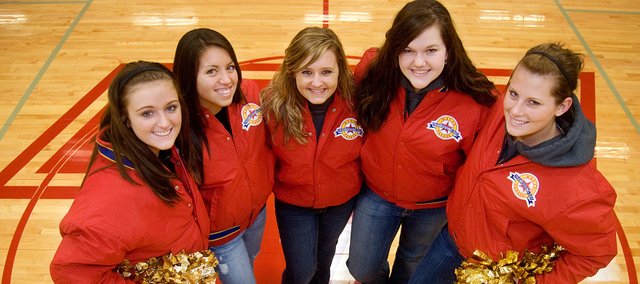 Giant balloons, marching bands and Santa Claus.
Each is a tradition at the Macy's Thanksgiving Day Parade.
And this Thanksgiving, five members of the Tonganoxie High School Chieftain Stars dance team will get to perform alongside all those attractions.
Seniors Taylor Davis, Danielle Henderson, Sarah Diekmann and Shelby Maxon, along with junior Kayla Jackson, won't be at home watching the annual Macy's parade in advance of turkey and all the fixings.
They'll be in the parade.
The THS students will be dancing with hundreds of other girls from across the United States with an organization called All-American Dance.
Though the calendar soon will turn to December, the five Tonganoxie teens started preparing for the parade this past summer, at UDA Dance Camp.
"They teach you the dance in a day, and then you and two other girls are judged," Jackson said. "There were about 100 girls who auditioned, but only about 20 made it from our camp."
The girls have been preparing during the nearly six-month wait from audition to parade by practicing the dance routine they will perform Thursday. All-American Dance sent the team a DVD of the routine as well as a CD of the routine music.
"We're dancing to a mix that's designed to focus on jazz, pom and hip-hop, so the songs are a mix of each," Davis said.
Of course, such an opportunity doesn't come without a cost. So, to offset some of the financial burden, the five dancers have done fundraisers together and individually.
Collectively, the five played host to Girls Night Out, which, according to Diekmann, was a great success.
"We hosted the Girls Night Out for grade school girls," she said. "We watched a movie, did their nails and hair and taught them a dance. That brought in about $1,200."
The group also worked volleyball concessions and had a car wash.
Individually, they've engaged in some "tasty" ventures.
Jackson sold cookie dough with Maxon, and Maxon has been selling candy at school for a dollar per piece.
Upon arriving in New York, the group has a full schedule planned, including seeing "West Side Story" on Broadway, shopping, ice skating and participating in classes taught by top choreographers.
Diekmann said she is most excited for New York's world-renowned shopping, while Davis is most eager to take classes from top choreographers.
For Maxon, however, this trip is exciting for an entirely different reason.
"I've never been on a plane before," she said. "So that will be pretty cool."
The girls should be easy to spot as they march through New York City. Sporting bright neon outfits, they'll be dancing along the parade route, which is about 2.5 to 3 miles long. The parade will be broadcast on NBC (Sunflower Broadband channels 8, 14, 202 and 208) at 9 a.m. Thanksgiving morning.
Basehor-Linwood at parade
Basehor-Linwood High School also will be represented at the parade.
BLHS Dazzlers dance team members performing in New York City are freshmen Taylor MIller, Paige Dickey and Jacie Harris, junior Ashley Ladd, and seniors Kristin Taylor and Nicole Bishop.
This is Kristin Taylor's second year participating. Dancers from the Dazzlers team have been in the Macy's parade seven out of the last eight years.
— Baragary, a senior at Tonganoxie High School, is working as an intern this school year at The Mirror.