Myers Hotel renovations on display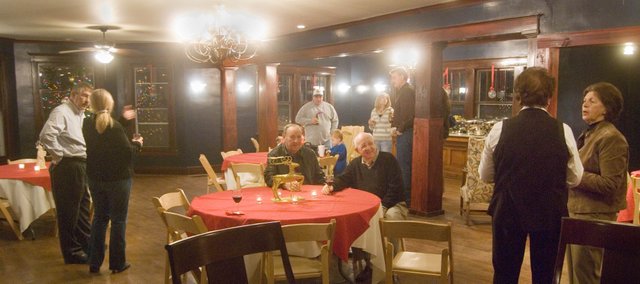 The owners of the Myers Hotel still have quite a bit of work to finish before welcoming overnight guests, but that didn't stop them from inviting people over to see how things are progressing.
On Friday night, owners Jack and Mary Cronemeyer and Kay Soetaert had a soft opening at the hotel. Guests were invited to eat, drink and look around the hotel.
"We're a long way from being done, but it's going to be worth it," Mary Cronemeyer said.
One of the first changes people will notice is the relocation of the front door.
The hotel's main entrance is now near the main dining room, which also has a new paint job.
The movie "Bus Stop," which is an adaptation of a play from Kansas playwright William Inge, that was supposedly inspired from his stay at the hotel, was playing in a newly created guest bedroom downstairs where the main entrance once was.
Just outside the new bedroom, a fireplace that once stood outside of the dining area has been removed to create more space, and beyond that a new women's bathroom was installed.
Soetaert and the Cronemeyers have updated a small cottage just outside of the main building.
The cottage contains a king-sized bed — as will all guest rooms in the hotel — as well as a kitchenette and full bathroom.

Mary said they wanted to create a "romantic getaway" for couples for their wedding.
Mary said one goal was to recycle what they could, such as relocating stone from the property to another area to create a patio.
"We are trying to reuse as much material from the hotel so we can be as green as possible," Mary said.
Soetaert said remaining construction and remodeling — mostly in upstairs bedrooms — would be done in time for next year's wedding season. She also said she thinks the hotel will help bring life back into downtown Tonganoxie.
"We are on the cusp of bringing back a downtown to Tonganoxie and we are going to be a big part of it," she said.