Bobcats blank Chieftains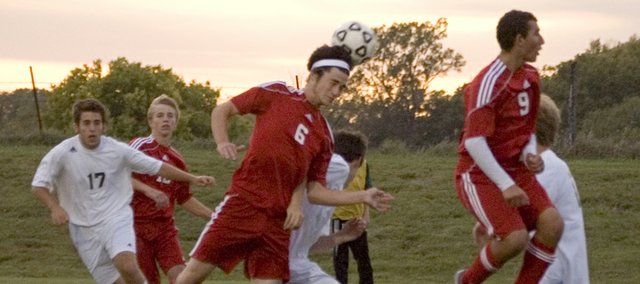 Photo Gallery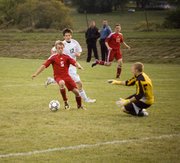 THS soccer falls at BLHS
Tonganoxie High had multiple opportunities to score goals in the first half but got shut out, 4-0, at Basehor-Linwood on Wednesday.
Basehor — Missed first-half chances ultimately caught up with the Tonganoxie High soccer team in a 4-0 loss at Basehor-Linwood on Wednesday night.
Perhaps the lopsided final score was foreshadowed when it took the Bobcats just 45 seconds to get on the scoreboard. At the very least, the impact of Keaton Schaffer's absence — the senior defender was sidelined with a nagging injury to his quadriceps — was felt immediately.
Basehor's Patrick Rutherford controlled the ball in front of the Chieftains' goal as keeper Mitch DeHoff came out in an attempt to cover it up. Rutherford sidestepped to the left and put BLHS up 1-0 less than a minute into the match.
To Tonganoxie's credit, the team didn't allow another goal for another 58 minutes. But with team leaders Schaffer and Bret Koch, who was out of town on a college day, missing from the lineup, the Chieftains (3-6-2) simply weren't firing on all cylinders. THS wasn't able to gain any positive momentum against a BLHS squad that had greatly improved since it lost at Tonganoxie, 2-0, on Sept. 3.
Prior to the match, coach Ken Lott urged his forwards to take shots. In the first half, Tonganoxie didn't have a problem with that. It was capitalizing on chances that proved difficult.
The Chieftains had more than 10 good looks but never could find the back of the net. Forwards Joseph Parrino and Matt Saathoff led the way with three first-half attempts apiece. Midfielder Preston Putthoff shot two attempts and both Tyler Woolworth and Tyler Bartholomew had a shot misfire.
Tonganoxie's two best looks came from Saathoff and Parrino. In the 15th minute, Woolworth found Saathoff in front of the net and his shot barely missed, high and left. In the 34th minute, Parrino had a well-struck shot knocked away, up and over the goal, by BLHS goalie Ryan Lawless.
For most of the match, Tonganoxie defensemen Kenny Schultz, Marcus Titterington, Jake Willis and Matt Titterington limited the BLHS offense.
It wasn't until the 58th minute that the Bobcats got another goal as Rutherford scored once more, this time on a header.
The final 40 minutes lacked many opportunities for THS to cut into Basehor's lead. Woolworth had a few shots and Saathoff attempted to score on a free kick. An assertive play by Willis in the 72nd minute nearly cut the Bobcats' 2-0 lead in half. But as he played a free kick off Woolworth's boot in the box, a flying Willis flicked it over an airborne Lawless and the ball flew a few feet over the crossbar.
Basehor picked up its third goal just more than three minutes later when Destry Bryan scored, putting the match out of reach. The Bobcats poured some salt in Tonganoxie's wounds with a score from Beau Himpel with just 10 seconds remaining.
Tonganoxie's next match is Monday, when the team travels to Lansing.