Chieftains trounce Chargers, 75-12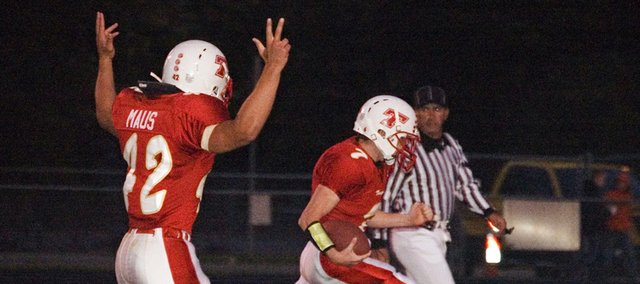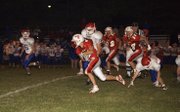 The Chieftains dominated for 48 minutes on Friday night at Beatty Field, but their supremacy was nearly unworldly in a 458-yard, 49-point second quarter that throttled them toward a 75-12 pounding of Santa Fe Trail.
Already up 7-0 after one quarter, senior running back Austen Holoway set the hellacious tone with a 40-yard rushing score on the first play of the second quarter.
After that, junior quarterback Jeremy Carlisle ran 68 yards for a touchdown on the second play of a drive.
Then senior back DJ Lindsay created a one-play drive with an 80-yard rushing score less than three minutes into the quarter.
Carlisle scored the next two touchdowns runs for Tonganoxie (4-1, 2-0 Kaw Valley League) — first from 32 yards out, then from 33 on the next drive.
Senior running back Jeremie Maus got into the action on the next possession, breaking a 22-yard TD run.
And just when it looked like the video game-esque period had come to a close as THS started a drive on its own 10-yard line with 35 seconds left, the scoring explosion finished with an 83-yard journey to the end zone from Carlisle as the first-half clock expired.
The Chieftains' starters only played one series in the second half and THS totaled 735 yards of offense for the game.
Carlisle finished the night with 12 carries, 287 yards rushing and five touchdowns. Lindsay gained 131 yards and scored twice with just three carries.
Santa Fe Trail (0-5, 0-3) finally got on the scoreboard late in the fourth quarter. Quarterback Phoenix Anshutz found Blade Wright for a six-yard score, and Daryl Starkebaum ran in a one-yard TD with less than a minute to go.
But the night ended much as it started when Brady Waldeier returned the ensuing kickoff 84 yards to cap an amazing night for THS.
The Chieftains are at home again next Friday for a non-conference matchup with St. James Academy. The Chargers will play host to Bishop Ward.
Score by quarters
SFT 0 0 0 12 — 12
THS 7 49 13 6 — 75
Scoring
T — Jeremy Carlisle 13 run. Amos White kick.
T — Austen Holloway 40 run. White kick.
T — Carlisle 68 run. Kick failed.
T — DJ Lindsay 80 run. Justin Jacobs pass from Jeff Sims.
T — Carlisle 32 run. White kick.
T — Carlisle 33 run. White kick.
T — Jeremie Maus 22 run. White kick.
T — Carlisle 83 run. White kick.
T — Lindsay 37 run. White kick.
T — Ian McClellan 4 run. Kick failed.
S — Blade Wright 6 pass from Phoenix Anshutz. Kick failed.
S — Daryl Starkebaum 1 run. Kick failed.
T — Brady Waldeier 84 kickoff return. Conversion failed.
THS rushing
Jeremy Carlisle 12-287, DJ Lindsay 3-131, Austen Holloway 8-93, Jeremie Maus 6-74, Ian McClellan 7-38, Brady Waldeier 4-27, Jeremy Wagner 3-21, Tucker Hollingsworth 1-18, Shawn Marin 3-12, Jason Espeland 1-6, Jonas Myers 2-6, Brett Shelton 2-5, Tyler Zinser 1-2, Josh Sloan 1-1, Adam Thomas 1-0.
THS passing
Jeremy Carlisle 1-3-14.
THS receiving
Dylan Scates 1-14.