Complete domination:
THS

wins by 63
Chieftains O-line bullies Chargers in 75-12 thrashing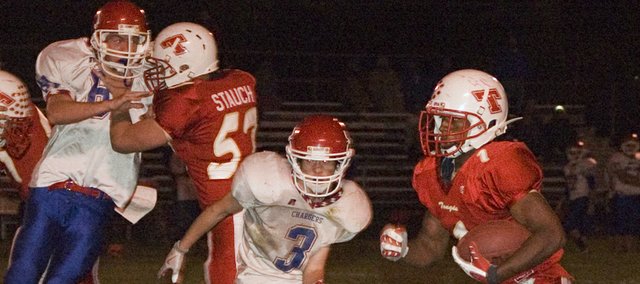 Photo Gallery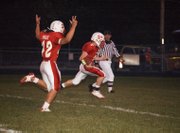 Chieftains dominate SFT
Tonganoxie High scored early and often on the way to a 75-12 stomping of Santa Fe Trail on Friday night.
As the Tonganoxie High football team prepared for a home game against winless Santa Fe Trail, the coaching staff's message to the players focused on maximizing potential.
The Chieftains did that and then some Friday with a 75-12 drubbing of the Chargers at Beatty Field.
The one-sided beatdown was exactly what THS coach Mark Elston was hoping for after the Chieftains (4-1, 2-0 Kaw Valley League) struggled the previous week at Wyandotte, giving an inferior team momentum and confidence. The coach let the players know they could be in for another battle if they gave the Chargers any glimmer of hope.
"We really took that to heart," said senior right guard Ben Myers.
Although the game was close early as THS led 7-0 after a quarter, the Chieftains decimated any dreams SFT (0-5, 0-3) had of hanging around with a ludicrously dominant second quarter during which Tonganoxie hoarded 458 yards of offense and 49 points.
Junior quarterback Jeremy Carlisle ran for four scores and Austen Holloway, DJ Lindsay and Jeremie Maus each busted a lengthy TD run of his own as the Chieftains made it clear to the Chargers that they stood no chance.
"It was pretty cool. It was a lot better than last week's first half," said senior center Dylan Young. "Last week we were too cocky coming in and this week we were a lot more down-to-earth."
With each huge gash to the SFT defense, things came more and more easily for Tonganoxie. Elston said it was because the Chieftains received the staff's message loud and clear.
"They came easy because we stressed in practice that we've got to step up and play to our potential," Elston said, adding that he didn't want to give an underdog a sniff of success. "The littlest things can give them momentum. We preached all week to not give them any momentum whatsoever, and we knew if they got behind they'd probably struggle."
The play of the THS offensive line led to the Chargers' woes. The starters — center Young, guards Nathan Stauch and Myers and tackles Richie Ridihalgh and Dane Gonser — habitually put SFT defenders on their backsides, and things were no different when subs Alex Fox, Justin Francis and Dylan Fosdick took the field.
On a night packed with highlights, Lindsay (three carries, 131 yards, two touchdowns) said his favorite part was the number of pancake blocks.
"We were laying people out," he said. "It got me fired up."
Elston praised the O-line for its play throughout the blowout and said the guys in the trenches established themselves early with some cut-blocks on the first handful of plays. That made SFT start retreating.
Carlisle said Tonganoxie has a good backfield but the linemen made the skill players look great.
"Everyone just went out and did their part," said Carlisle, who ran for 287 yards and five touchdowns on the night. "The sideline was cheering, the offensive line was getting their execution going, and the backfield can live off that — when the offensive line gets their jobs done, it makes our jobs a lot easier."
Myers, who said THS had an easy time reading the Chargers' defensive line, thought his team's entire O-line deserved credit for Tonganoxie's success on a gaudy night for numbers — 735 yards of total offense, 10 offensive touchdowns.
"It was a really good effort from the whole group because when we ran it right side, we got it, when we ran it left side, we got it," Myers said. "Everyone was going all out and you could see it on the field."
When the starters were pulled after one series in the third quarter, with THS leading 63-0, the backups showed off with a 12-play, 3:52 drive that went 90 yards. Jeremy Wagner, Ian McClellan, Shawn Marin and Tucker Hollingsworth all had carries of 10-plus yards before a four-yard McClellan touchdown run put the Chieftains ahead 69-0.
Tonganoxie got its final score of the night on special teams when Brady Waldeier returned a kickoff 84 yards for a TD with just 37.4 seconds remaining. Elston said that was one of the highlights of the game because many young players got to be a part of the big play.
"They get beat up in practice and don't get a whole lot of playing time and for them to be in and for that to happen, that was a big highlight," the coach said.
Tonganoxie's defense made a number of big plays in the lopsided affair. Hollingsworth and Dylan Scates each had an interception, Jeff Sims recovered a fumble, Francis sacked the quarterback, Hollingsworth, Lindsay and Marin broke up passes and Hollingsworth and Stauch had tackles for loss.
Next up for Tonganoxie is a 7 p.m. non-conference home game Friday against St. James Academy.