Cross country runners trying to shake illness outbreak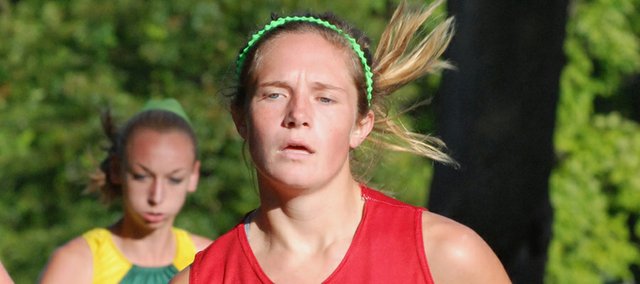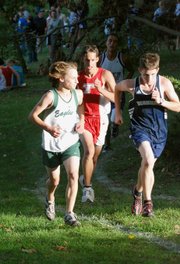 The Tonganoxie High cross country teams were hampered by more illness and injuries this past week at the Lansing Invitational.
Not only were the Chieftain boys missing Justin Soetaert (knee) and Patrick Rachford (sick) but the girls ran without Cristina Rubio (sick) and lost Shelby Maxon during the race when she stepped in a hole, rolled her ankle and was unable to finish.
"I didn't really see it when I was running," said Maxon, who explained that her whole leg buckled underneath her and the mishap tore some ligaments in her foot.
Without all of their regular contributors, the THS boys finished fifth and the girls were sixth at the University of St. Mary course in Leavenworth.
"We had some very good performances, and some that were below average," Tonganoxie coach Phil Williams said.
Andie Jeannin had another impressive outing in the girls 4K, finishing fourth with a time of 16:26. Alex Hauk's time of 17:25 placed her 15th.
Caleb Himpel and Dalton Harrington both had top-20 times for the boys as Himpel took 14th and Harrington was 17th in the 5K.
Harrington is rounding back into shape after battling an illness of his own and missing action in previous weeks. He had a 103-degrees fever, a cold and a sore throat before coming back for the Rim Rock race, which Harrington said was difficult.
"I did really bad," he recalled. "I panted for breath and I had to stop six times because I was still out of shape."
Illness has impacted the team often this season. Maxon has also missed competition — she had a flu with headache and fever, then had a sinus infection and bronchitis all at once.
She said the toughest part about it was coming back after she felt better because a lot of endurance and conditioning was lost.
"You don't think you would lose that much but then you realize it — even if you're out just for a week," the senior said.
Williams said the team has battled sickness much more than usual this year as there have been a lot of flu and respiratory problems going around.
"Cross country is the one sport you really cannot participate in when you are a little under the weather," Williams said. "In every other sport, there are lulls in the action to recover a little, and a coach can sub an athlete in and out to rest him or her. In cross country, of course, a runner has to go full strength for the full race to be effective at all."
Both THS teams think their team scores will improve when they have a full complement of varsity runners.
"I think we'll be good if we're all getting back to healthy," Maxon said.
Added Harrington: "When we come back, I think, we'll start winning some trophies."
Tonganoxie travels Thursday to Mill Valley in Shawnee.
Lansing Invitational
Oct. 1 at University of St. Mary, Leavenworth
Girls 4K
Team scores
1. Basehor-Linwood, 66; 2. Christ Prep, 74; 3. K.C. Christian, 78; 4. Maranatha Academy, 88; 5. Spring Hill, 91; 6. Tonganoxie, 107.
THS results
4. Andie Jeannin, 16:26; 15. Alex Hauk, 17:25; 23. Nikki Beggs, 18:07; 38. Nicole Gersbeck, 19:50; 39. Lindsay Cox, 20:02; 40. Sarah Williams, 20:03.
Boys 5K
Team scores
1. Maranatha Academy, 41; 2. Christ Prep, 53; 3. Basehor-Linwood, 61; 4. K.C. Christian, 96; 5. Tonganoxie, 119; 6. Bishop Seabury, 175; 7. Lansing, 179.
THS results
14. Caleb Himpel, 17:55; 17. Dalton Harrington, 18:16; 30. Keith Slater, 19:05; 33. Joel Dunning, 19:31; 35. Brady Field, 19:35; 39. Cooper Gish, 19:58.