Tonganoxie volleyball posts winning record in tough stretch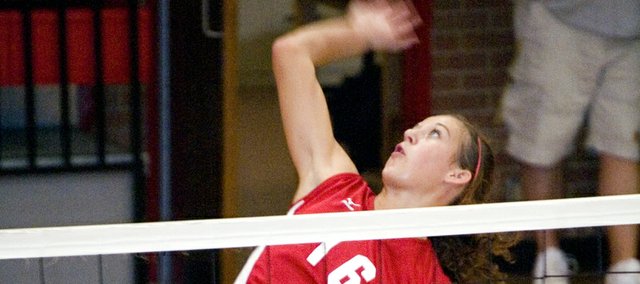 After battling through the rigors of the most difficult part of its schedule, the Tonganoxie High volleyball team enjoyed some time off this past week.
On Sept. 29, the Chieftains completed a demanding six-day, four-event, 11-match stretch of the calendar.
It started with a quadrangular Sept. 24 at Jeff West in Meriden. Then, two days after that, there was the five-match Tonganoxie Invitational. Next up, 48 hours later, was a dual with highly ranked Topeka-Hayden. And the marathon concluded with a triangular at Shawnee against Mill Valley and Lansing.
"That's a lot of volleyball," THS co-coach Brandon Parker said after the Chieftains went 6-5 in that stretch.
"We probably would like a couple more wins but at the same time I think we got better from competing."
Senior Abby Eisman said the hectic portion of the schedule should pay off.
"We obviously didn't do as good as we wanted to but I think it's just going to help us in the long run," she said.
Between arm soreness, fatigue and some illnesses, THS had plenty to worry about. Parker said some players just needed a break but Eisman said the players didn't mind battling through the busy week.
"It's kind of chaotic but it's not bad," she said. "We weren't thinking about getting down or tired."
But that might have been unavoidable when the rugged span ended with back-to-back nights against some of the state's top talent. Hayden was ranked No. 2 in Class 4A and Lansing was No. 3 in 5A. Parker said the biggest challenge was maintaining a high level of intensity, and it showed in the Hayden match
"I thought we were just flat that night," Parker said.
However, that wasn't the case the following evening, when the Chieftains overcame a sluggish start, defeated host Mill Valley and showed some signs of fight against a tough Lions squad.
"There were a lot of high points in the Lansing game," Eisman said.
Parker said a win and a loss at that triangular was a solid close to the six-day stretch.
"We had good, competitive moments against Lansing — not as much as we'd like — but we showed some good signs," he said. "If you come out of that one 1-1, that's pretty good."
Entering a road dual Tuesday with Basehor-Linwood after The Mirror's deadline, the Chieftains' record stood at 9-9 with just a few weeks of regular-season matches remaining.
Parker said players are stepping up as the season winds down. In his ninth year at Tonganoxie, the co-coach said Hannah Kemp has done well as a freshman setter, Ali George is serving well and had done a nice job on the back row, Jenny Whitledge had her best match against Hayden, Molly O'Hagan and Eisman have been productive with kills and Shyanne Gergick has played libero with a lot of energy.
"I definitely feel like we're heading in the right direction," said Eisman. "We're putting things together."
Parker said the team's goal is to continue to develop into a better team in the coming days and weeks before sub-state, which is Oct. 24 at Piper in Kansas City, Kan.
"We're hoping with two duals this week and then the De Soto tournament, we can start making a run," Parker said on Monday.
The Chieftains are having an 80s night starting at 5:30 Thursday, when they play host to Topeka High. On Saturday, they will compete at the De Soto Spikefest.