MHS

seniors go out with a bang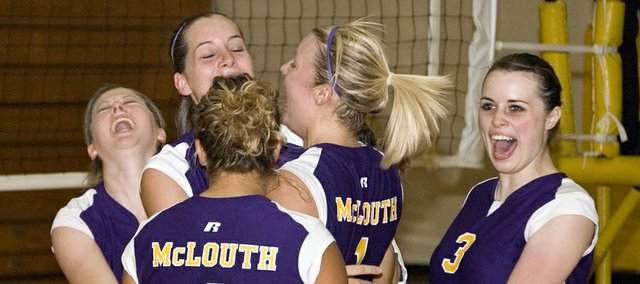 Photo Gallery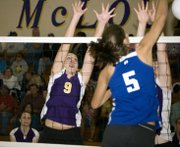 Dramatic night for McLouth seniors
The McLouth High volleyball team rallied for a Senior Night victory against K.C. Christian on Tuesday night.
An emotional Senior Night came to an exciting end for the McLouth High volleyball team on Tuesday night.
With MHS seniors Cassidy Bristol, Courtney Chilcoat, Alexa DePriest, Taylor Rush and Kylie Shufflebarger playing on their home floor for the last time, the Bulldogs rallied from a late deficit to defeat K.C. Christian after knocking off Doniphan West earlier in the evening.
In the third and final game of the KCC match, McLouth trailed 22-20 before finishing on a 5-1 run to end the night on a high note.
Jeri Holwick set up Shufflebarger for a kill that cut the Panthers' lead to one. Then KCC scored, giving the road team a 23-21 lead.
However, MHS scored the next four points, with the final three coming on blocks. A perfectly-timed defensive block by Rush tied the game. Then Bristol stymied Panthers kill attempts on the next two plays to finish off KCC.
After earning a difficult win, tears streamed down the faces of the MHS seniors, who were determined to finish their night with a win.
The Bulldogs led early in the pivotal third game before KCC tied it up at 14. What followed were eight lead changes, eight tie scores and, ultimately, the late MHS rally.
All of that was made possible by a complete team effort from McLouth. Shufflebarger dominated the net, Holwick set up her teammates, Bristol and Rush played great defense late and Jessie Troupe, Terri Stewart and Chilcoat hustled for digs.
In their first match, the Bulldogs defeated Doniphan West — 24-26, 25-17, 25-9. The dramatic victory over K.C. Christian — 26-24, 21-25, 25-23 — put MHS at 16-12 on the season with a 9-3 mark in Delaware Valley League play.
Shufflebarger finished the evening with 37 kills. Holwick passed out 27 assists and Chilcoat finished with 16 assists.
McLouth is idle until next Tuesday, when the Bulldogs travel to Pleasant Ridge for a triangular.
More like this story