THS

defense comes up big in 4th quarter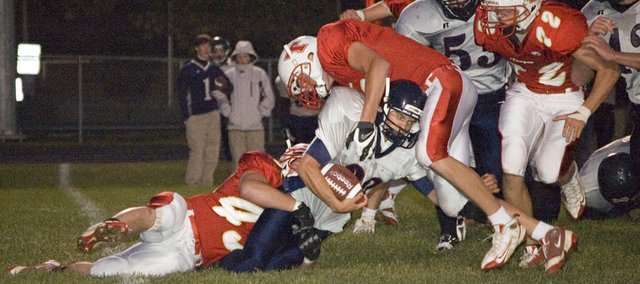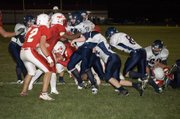 Down seven points in the fourth quarter, Tonganoxie High's defense stepped up, refusing to let St. James Academy back in the end zone, and the Chieftains scored 19 unanswered points for a 40-28 non-conference victory on Friday night at Beatty Field.
A five-play, 76-yard THS scoring drive that tied the game at 28 with 8:35 left was capped by a 14-yard sweep for a touchdown from THS senior DJ Lindsay.
The Chieftains (5-1) then forced the Thunder (4-2) to a three-and-out as sophomore Jonas Myers pressured SJA quarterback Jim Getto into a third-down incompletion.
Two plays later, Tonganoxie took the lead for good on a 62-yard run from junior quarterback Jeremy Carlisle.
After SJA blocked the ensuing extra point, THS led 34-28 and the Thunder was in position to regain the lead.
However, the Chieftains made plays to stymie any further SJA scoring. Although SJA started the drive at the 50-yard line and was able to convert a fourth-and-six when Getto hit Bryan Eisman for a 23-yard completion, Tonganoxie hunkered down with SJA knocking on the red-zone door.
THS forced four straight incomplete passes thanks to backfield pressure from Tucker Hollingsworth and Jeremie Maus and pass deflections from Dylan Faulconer and Jeff Sims.
With 5:15 remaining, nursing a six-point advantage, the Chieftains marched 79 yards on 10 plays, eating up 3:25 of clock in the process.
Carlisle had runs of 26 and nine yards for first downs and Lindsay picked up another with a 38-yard dash that put THS on the SJA four-yard line. On second-and-goal, Carlisle eluded a tackle in the backfield and ran left four a four-yard TD with 1:50 remaining.
The junior quarterback finished the evening with 20 carries, 159 yards and four touchdowns. Senior back Maus ran 10 times for 87 yards.
Junior Shawn Marin returned a kickoff 83 yards for a score in the third quarter.
The Chieftains were plus-three in turnover margin. Carlisle and Lindsay each had an interception. Jason Espeland recovered a fumble, as did Lindsay.
Tonganoxie begins district play next week, when the team travels to Basehor-Linwood (5-1).
Score by quarters
SJA 7 7 6 8 — 28
THS 14 0 7 19 — 40
Scoring
T — Jeremy Carlisle 1 run. Amos White kick.
S — Ryan Ferguson 52 run. Logan Fortney kick.
T — Carlisle 27 run. White kick.
S — Bryan Eisman 11 pass from Jim Getto. Fortney kick.
S — Chase Jackson 1 run. Kick blocked by Jason Espeland.
T — Shawn Marin 83 kickoff return. White kick.
S — Jackson 1 run. Jackson pass from Getto.
T — DJ Lindsay 14 run. White kick.
T — Carlisle 62 run. Kick blocked.
T — Carlisle 4 run. Conversion failed.
THS rushing: Jeremy Carlisle 20-159, Jeremie Maus 10-87, DJ Lindsay 6-67, Dylan Faulconer 1-9, Shawn Marin 1-3, Austen Holloway 6-3.
THS passing: Jeremy Carlisle 3-8-41, one intercepted.
THS receiving: Dylan Faulconer 1-19, Jeremie Maus 1-16, Justin Jacobs 1-6.