Back on track:
THS

volleyball learns from loss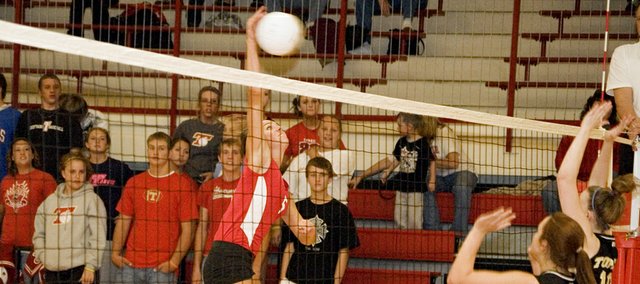 Photo Gallery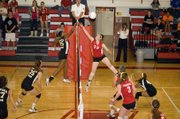 Chieftains volleyball beats Topeka
Tonganoxie High took three of five games from visiting Topeka on Thursday night to pick up a home victory.
Thursday was supposed to be 80s night at Tonganoxie High as the volleyball team played host to Topeka High. But following a bogus performance from the Chieftains earlier in the week at Basehor-Linwood, the retro night was totally canceled.
The loss and the repercussions, though, seemed to motivate THS to a home victory in the best-of-five dual with Topeka High.
Tonganoxie co-coaches Brandon and Tiffany Parker were so disappointed in the team's poor showing in a loss to BLHS on Oct. 6 that they nixed what was meant to be a fun 80s night.
"We were so bad … that our focus had to solely be on volleyball," Brandon Parker said. "We're too young to multi-task."
THS junior Molly O'Hagan said the team deserved to lose its theme-night privileges.
"You have to earn everything," she said. "We didn't earn it. I'm glad we got it taken away because it opened our eyes just a little bit farther to see that that's (losing) not going to be OK."
It appeared the players remembered that lesson when the Topeka match began. After dropping the first game 25-19 — a set during which Parker said the players looked the same as they did at BLHS — the Chieftains took three of the next four, 25-15, 25-17, 15-25 and 25-18.
Senior Maggie Franiuk said the team bounced back well.
"We brought so much energy," she said. "I don't think I've ever seen us have that much energy (this season)."
Parker said the team made some positive changes, noting that O'Hagan got a lot of good looks, Franiuk was a defensive "spark" and Megan Hummelgaard played well on the back row.
"We got better," Parker said. "We had a few ruts. Our problem is we can't have those long ruts."
During those ruts, frustration was evident on the Chieftains' faces. Parker said confidence has been problematic for the team this season and O'Hagan called it one of the team's "biggest problems" as experienced players attempt to lead the squad.
"We're trying to see how this team works because we're fragile," O'Hagan said. "We've got younger players and we've got older players and both don't have a lot of varsity experience, so we have to kind of find that mesh where we can give them confidence, but we can be like, 'Hey, we've gotta get this done.'"