THS

defense does its job in crunch time
Chieftains stymie
SJA

on final 3 possessions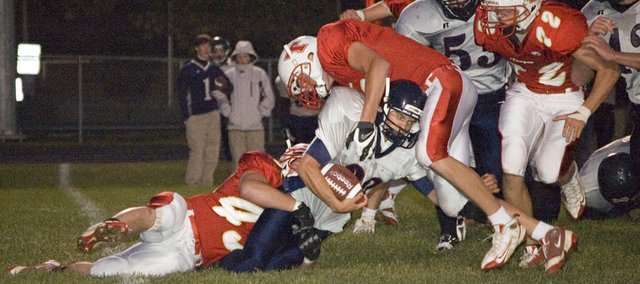 Photo Gallery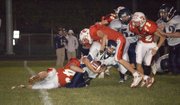 THS football rallies to beat St. James
The Chieftains were down seven points in the fourth quarter to visiting St. James Academy on Friday before scoring 19 unanswered points for a 40-28 victory.
Nobody doubted Tonganoxie High would put points on the board during its Friday night home football game with St. James Academy.
The question for the relatively untested Chieftains was whether their defense could stop a solid opponent.
The answer was yes late in the fourth quarter as Tonganoxie held SJA scoreless on the Thunder's final three possessions and picked up a 40-28 victory.
The Chieftains trailed 28-21 early in the fourth quarter and were having trouble containing the Thunder offense. But after senior running back DJ Lindsay scored a 14-yard touchdown with 8:35 remaining and Amos White kicked an extra point to tie the game, the THS defense flipped a switch and put plenty of heat on SJA quarterback Jim Getto by blitzing up the middle. It was a gamble, THS coach Mark Elston said, that paid off.
"High risk, high reward," Elston said of the blitzes. "We were sending a linebacker almost every time."
That translated into backfield chaos for Getto as Jonas Myers, Tucker Hollingsworth, Jeremie Maus, Dylan Faulconer and Jason Espeland all pressured him at separate times in the final eight minutes.
THS (5-1) had to have stops and Espeland said that knowledge drove the defense to succeed.
"When the pressure's on, it feels like you've got to go (perform)," the senior defensive end said.
Faulconer, who nearly intercepted two different would-be screen passes, said the defense turned things up a few notches in the final minutes.
"We played with intensity," the senior said.
Tonganoxie junior quarterback Jeremy Carlisle put the team ahead for good with 6:36 to go, when he ran for a 62-yard touchdown. He scored his fourth and final rushing TD of the night with 1:50 left. Carlisle led the team with 159 yards on 20 carries.
As usual (THS averages 42.2 points a game), the Chieftains put up big offensive numbers. But Carlisle said it was important for the defense to step up in crunch time.
"Everyone knows our offense can score but the big question mark going into each and every game we play is our defense. Today, like most games, our 'D' stepped up big and got us a 'W,'" the quarterback said.
The defense made plays throughout the non-conference win against SJA (4-2). The Chieftains were plus-three in turnover margin as Carlisle and Lindsay each had an interception, and Espeland and Lindsay both recovered a fumble. On special teams, Espeland also blocked an extra-point attempt.
The defense's fourth-quarter stands were especially impressive given how much time it spent on the field in the third quarter, when Tonganoxie only ran six offensive plays — thanks in large part to an 83-yard kickoff return for a touchdown by Shawn Marin.
"I was really proud of the way we stepped up on defense," Elston said.
The next step in becoming a better defensive team, Espeland said, will be playing with the fourth-quarter fire THS showed for an entire game. That kind of effort will be crucial as Tonganoxie begins district play Friday at rival Basehor-Linwood. The game can be seen that night at 10:30 p.m. and at 11 a.m. Saturday morning on Sunflower Broadband Ch. 6.