Arcade Fever
Family turns game collection into downtown business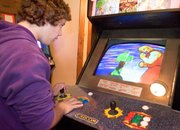 Saturday nights in Tonganoxie might not always be the most exciting times for local youths, but Doug'z Arcade aims to change that — with a little help from Ms. Pac-Man and Donkey Kong.
At 628 E Fourth St. in downtown Tonganoxie, Doug'z Arcade, owned by Doug Shoemaker, has become a hot spot for local youths — no matter if it's a weekday or Saturday.
"I always liked these old games, and there wasn't really anything for kids to do in Tonganoxie. So we thought this would be good to keep the kids busy and out of trouble," Shoemaker said of his decision to open the arcade.
So far, he said, business has been good.
"After school is a pretty good time for us, we usually get about 15 to 20 kids in here."
Shoemaker said he's amassed a collection of arcade games through the years by purchasing them at various auctions in the Kansas City area and through Craig's List online.
He and his wife, Heather, have 20 games inside the arcade, which is in the former Pammy Sue's restaurant and bakery building.
The arcade is open 3-9 p.m. Mondays through Thursdays, Fridays 3-11 p.m. and Saturdays 10 a.m.-11 p.m.
Caleb Tillery, 10, a regular customer at Doug'z, likes what Shoemaker has done with the space.
"I like it, it keeps me busy afterschool," Caleb said. Caleb's favorite game is Blitz 99, which is a football game. In his own words he's "pretty good at it."
So good, Caleb said, he's come close to beating Shoemaker a number of times.
Some of the arcade's more popular games are CarnEvil, Marvel vs. Street Fighter and Air Hockey.
But Shoemaker doesn't just want the arcade to bring in the youth of Tonganoxie, but those who grew up with arcades, as well.
"We've got newer games for the younger kids, but we've got classics like Ms. Pac-Man and Galaga for the 'older kids,'" Shoemaker said.
To try to bring in some of those "older kids," Doug'z Arcade is planning a grand opening just after Halloween, but before that, the business will be participating in the city-wide Spooktacular event Oct. 30. The arcade also is planning promotions and give-a-ways.
"Eventually, we'd like to expand into a bigger building," Shoemaker said. "We've talked about putting in some bowling lanes and bringing in some food. We want to make this really nice."
Though the arcade has only been open for a couple weeks, Shoemaker said he is really satisfied with how the public has responded.
Shoemaker hopes the pings, pows and booms of Doug'z Arcade will become a regular part of a Saturday night in downtown Tonganoxie for years to come and give the local youths a place to gather.
"Older kids" are welcome, too.
— Baragary, a senior at Tonganoxie High School, is working on The Mirror staff as an intern during his senior year.