Boo!
City prepares for 'spooky' downtown event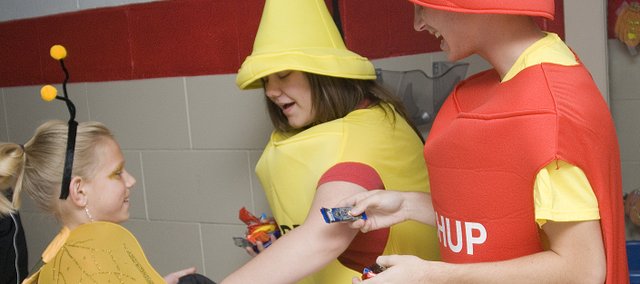 Cheryl Hanback, executive director for the Tonganoxie Chamber of commerce, discusses this year's Spooktacular events.
Q: When will this year's Spooktacular take place?
A: From 6-8 p.m., Friday, Oct. 30.
Q: Who is involved with the Spooktacular event?
A: City of Tonganoxie, Tonganoxie Public Library, Tonganoxie Recreation Commission and the Chamber of Commerce all help plan the event. Most downtown businesses will be participating.
Q: Last year was the first year for the activity in Tonganoxie. What festivities took place at the inaugural event and what can people expect to find at this year's Spooktacular?
A: Last year there was a trick-or-treat at the elementary school for the little ones helped out by high school students. A lot of businesses were handing out safe candy to the toddlers. Hundreds of people came down to stroll the streets and see everyone in their costumes. This year, the elementary school will participate like last year. Almost all the businesses are going to participate and there will be a costume contest. There are still more events coming in.
Q: If anyone wants to get involved with this year's Spooktacular, who should they call and what types of things can they do to help out at the event?
A: Any local business can participate. Businesses downtown have their own spaces, but other businesses could coordinate with someone downtown to use some space. We do need a consent form filled out if they plan on participating. They can contact the chamber to get one at info@tonganoxiechamber.org.
Q: How much candy should storeowners purchase to accommodate all the ghosts and goblins?
A: I've done quite a bit of research on this and it appears that ghosts and goblins require a sizeable amount of candy to be completely satisfied. So unless they want to be haunted, businesses should plan on having plenty on hand.