School board charges families with falsified address information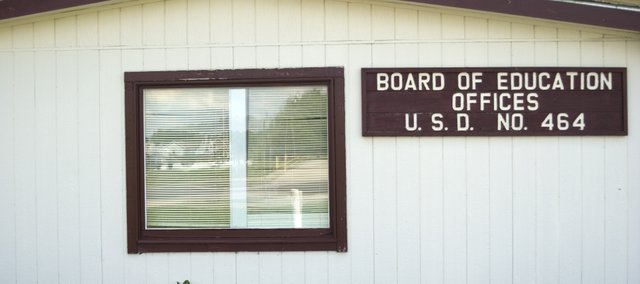 The Tonganoxie School Board office has retroactively assessed transportation fees to some families for the first month of school.
Superintendent Kyle Hayden said as the school has been mapping out routes for its GPS software and various reports, district office staff has found instances of falsified address information. Students living 2.5 miles or farther from their school are not charged to ride school transportation, but students living closer than that distance must pay to ride the bus, policy that was instituted at the beginning of this school year.
Hayden mentioned pay-to-ride bus routes are full and the district was forced to reject several requests due to space limitations.
Vehicle browsing
The school board will be looking into increasing its transportation fleet.
The board directed Hayden to look into prices for vehicles such as a Ford Econoline van or Chevrolet Suburban as another size option for travel.
Board member Kathy Baragary said when she was a sponsor for forensics, there were only about five students, but a bus was used for the trips.
Fellow board member Leana Leslie mentioned the size of the larger van or Suburban would better fit some of the activity trips and could be more fuel efficient than taking the larger buses for those activities that a minivan or bus would be less practical.
Hayden said he did budget money for an additional vehicle and will look into pricing of vehicles.
Web site questions
Kris Grinter asked Hayden about the school district's Web site. She said the former Web site still is available online.
Baragary noted that if a person were to search "USD 464" on Google, the former Web site for the district is the first site shown.
Hayden said the site was supposed to be taken down. He said he would look into the situation further.
The new site is www.tong464.org; the former site is www.tong464.k12.ks.us.
New messaging system
SchoolMessenger is the district's new messaging system.
According to technology reports, setup has started and should be fully functional soon, Hayden said. Updates are automated and pulled directly from PowerSchool.
SchoolMessenger has the capability to send out notifications for absences and failing grades to parents. Hayden said administrators and secretarial staff were being trained to use the system and could decide what features would be utilized.
Leslie asked whether a policy of what's eligible to be included in the messaging system existed.
Hayden said there was not a policy
"I just don't want it to be abused," Leslie said. "Or why are we not using it for this and this and this."
Hayden said it would be good to have some sort of protocol.
"I'm not talking about a 100-page document, but a sheet about do's and don'ts," Leslie said.
Board member Kay Smith said a good notification alert would be if a bus broke down, notifications would be sent to parents of children riding on that bus.
Building discussions
Board members spoke further about the facility planning meeting Sept. 28 with Jerry McCall, of Educational Consulting Services.
Grinter discussed making the current elementary school a community center with district offices and other services outside the district and then building a kindergarten through fourth grade building elsewhere.
Board member Dan Hopkins said the idea of having the current elementary school for some classrooms and then building another school can be more costly because that's one more building for which to pay energy and maintenance costs.
Hayden noted McCall's fee of $20,000 is part of the district's $2.1 million energy performance contract with Trane the board approved in January. The contract is a 15-year lease/purchase agreement.
Hayden on state task force
Tonganoxie's school district superintendent is one of a group of 40 superintendents from across the state on the School Finance Task Force.
Hayden said he is working closely with the Kansas State Department of Education and United School Administrators of Kansas to advocate for public education with the Legislature in hopes of shifting policy decisions that are cutting school funding.
Hayden said there are some factors contributing to the school funding crisis:
• the free lunch count has increased by a considerable amount and likely will cost the state an additional $30 million dollars.
• enrollment has increased and will cost the state an additional $7 million.
• assessed valuation has decreased by $500 million and thus fewer tax dollars are going to the state general fund to assist with financing state agencies.
• $274 has been cut from the base state aid per pupil and all capital outlay aid has been eliminated. Hayden said that cost USD 464 more than $600,000 in expected funds.
With working on the task force, he said there was also discussion about states bordering Kansas not having a decrease in state aid during the difficult economic times. Overall about 50 percent of states have reduced state aid, Hayden noted.
As for the makeup of the Legislature, Hayden said there was a large division among conservative Republicans, moderate Republicans and the Democratic party in Kansas.
Because of that division, topics such as school finance become a very major issue, he said.