Scout projects help raise new flagpoles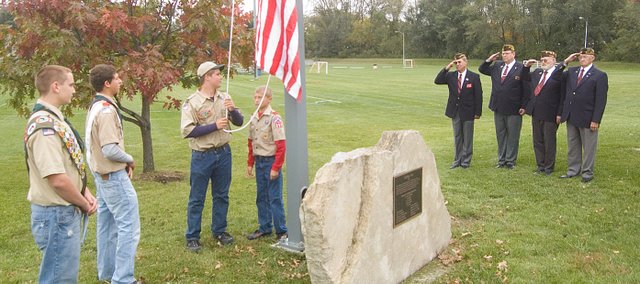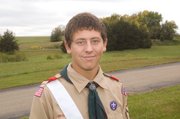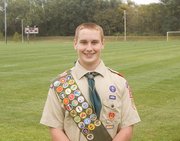 Old Glory will be flying with vivid colors at Chieftain Park and Tonganoxie Nursing Center, thanks to the work of Boy Scouts Cody Martin and Thomas Miller and a cast of volunteers
Cody's scout project was putting up a flagpole and landscaping around it at Tonganoxie Nursing Center, while Thomas' project centered on installing a flagpole at Chieftain Park.
Family and guests, as well as Tonganoxie Veterans of Foreign Wars Post 9271 members, were on hand for ceremonies Monday at both flagpoles.
Cody, who is 15 and a sophomore at Tonganoxie High School, said the project required about "150 man hours" to complete.
The projects started about a year ago and were the final project requirements for both youths before they receive their Eagle Scout distinctions.
"I feel like all the weight on my shoulders has been lifted off," Thomas, who is a 14-year-old THS freshman, said about completing the project. "We couldn't have done it without a lot of people's help."
Tammy Miller, Thomas' mother, said the 30-foot poles were donated from Westar Energy, while Kansas Gas Service donated paint for the poles. Her husband, Ken, works for Kansas Gas Service and had spoken with colleagues about the projects. Ryan DeGrange, who works for Westar, donated the polls to the projects. Tammy said it was a green project for Westar, as the flagpoles formerly were tubular light poles.
The VFW donated the American flags, Himpel Lumber donated work supplies for the projects, Gambino's Pizza donated food for one of the work days and Meadows Construction allowed Cody and Thomas to use its building for project work during inclement weather.
"We really couldn't have done it without a place to do it," Tammy said.
Tammy also said Nancy Henre, who for many years has been involved with Boy Scouts with her sons, was instrumental in making the projects a reality.
Cody's parents, Darin and Wendy Martin, also were on hand for Monday's ceremonies.
Wendy said her son completing the project was quite the accomplishment.
"I think it's a wonderful achievement," she said. "He has worked very hard to achieve it."
Darin also was in Boy Scouts and his Eagle Scout project involved landscaping at a church in the community where he lived in Missouri.
Larry Meadows, of the Tonganoxie VFW, had flag pole toppers for the poles installed with the initials BSA for Boy Scouts of America.
When the flag poles recently were erected, Tammy said Meadows put his hand on Thomas' shoulder and said, "You and I will be gone and that pole will still be standing."
Tammy said she became emotional when Meadows made the comment.
"It was just a feel-good moment," she said.
Dan Hopkins, VFW Post 9271 commander, said the VFW has tried to help the Boy Scouts with projects every year.
"This year we had two Boy Scout members step up," he said.
Hopkins said a local Boy Scout is working on his project for next year — a flag collection box.
It would be a drop-off box for worn American flags. The flags would then be retired during a flag-burning ceremony, Hopkins said.