Tonganoxie residents roll windows down, sleeves up for flu shots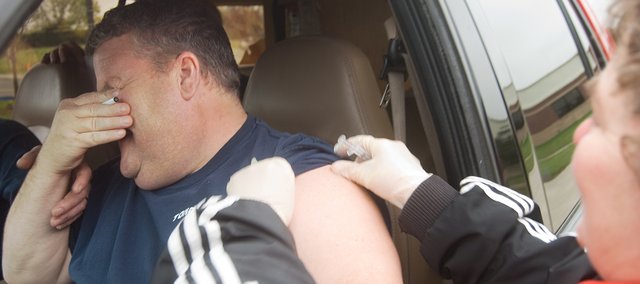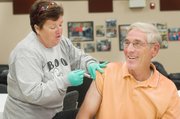 With the Leavenworth County Health Department and the Kansas Department of Health and Environment urging residents to get a seasonal flu shot, Tonganoxie residents heard the call and rolled up their sleeves.
Kathy Harrell, eighth-grade history teacher at Tonganoxie Middle School, took time off from the district's staff development day to go to the middle school and get her shot. She was one of 330 people who got inoculated at Monday's drive-through flu clinic.
"This is the best way to get a flu shot," Harrell said from inside her car. "It's so convenient."
For the second time this year the Leavenworth County Health Department has conducted the drive-through flu clinic as a way of getting the seasonal flu vaccine to county residents.
Donna Martin, the county health department director, said TMS was chosen because the county needed a vaccination site in the southern part of the county and the layout of the middle school was conducive to the event.
The purpose of the drive-through clinic is for the county to practice how to perform a mass vaccination while minimizing contact among people in case of a pandemic.
Cars entered from the east entrance of the middle school and moved their way through the front parking lot in front of the school, where passengers received their shots, and then left out the main entrance.
Martin said that they've had practice runs of different plans to administer antibiotics and other medicines in mass quantities, but the results from distributing pseudo medicine – in that case candy – weren't as useful as actually distributing something like the seasonal flu vaccine.
These clinics help departments test their flexibility if the situation changes.
Martin said a thunderstorm during a Sept. 21 flu clinic in Leavenworth caused officials to quickly change gears from a drive-through clinic to a regular walk-in clinic.
"I was so proud of how quickly my staff was able to adjust," Martin said. "We were shut down around 10 minutes until 9 (a.m.) and were administering shots at the health department by 9:15 (a.m.)"
The department administered about 500 shots that day.
The clinic also allowed different agencies in the county to practice working together.
The Leavenworth County Health Department was working closely with staff from different hospitals in Leavenworth as well as people from the Leavenworth County Sheriff's Office and Tonganoxie police and fire departments, as well as volunteers.
Some Tonganoxie city employees who weren't working at the clinic came by to get a vaccine.
Kathy Bard, assistant city administrator, said the flu shot wasn't a requirement for city employees, but it was encouraged.
"We would rather they just not get sick, so we do encourage they get it," she said.
For the time, Martin said the county will not be conducting any more flu clinics, but will still be administering shots at the health department as long as they still have supplies.
She said residents can call the health department at (913) 250-2000 to request a shot.
The Tonganoxie Nursing Center will be offering free flu vaccinations from 9 a.m.-noon Saturday, Oct. 24, at the nursing center, 1010 East St.
Residents who want to receive the free vaccine must be older than 18 years and complete a consent form. Quantities of the free vaccine will be very limited, so nursing center officials ask that residents RSVP Elicia Maline between 9 a.m.-5 p.m., Monday-Friday at (913) 369-8705.