Chieftains fall, 28-27, in
2OT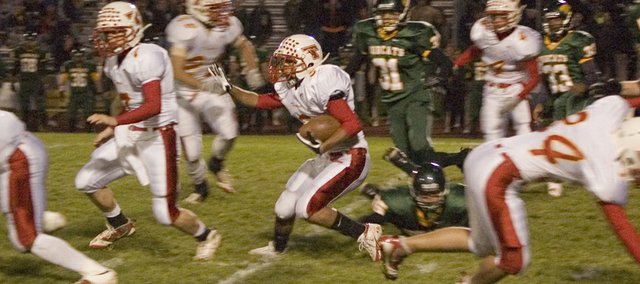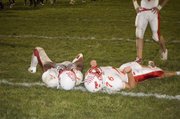 Basehor — The Chieftains took a gamble in a district road game Friday night and busted.
Tonganoxie High made a gutsy move in double overtime, going for a two-point conversion and the win. But Basehor-Linwood snuffed out a Jeremy Carlisle quarterback sneak up the middle to secure a 28-27 victory over THS.
Carlisle got a good push from the offensive line on the game's deciding play but the Bobcats stopped him mere inches from the goal line.
THS coach Mark Elston said he didn't regret the play call.
"It was one that I had confidence in," the coach said after the one-point heartbreaker. "We knew they were gonna be blitzin' … We were a half-inch away."
Elston said after BLHS quarterback Brandon Leppke hit Colin Murphy for a 10-yard score on the first possession of the second overtime, setting up a 28-21 Bobcats lead, the 10th-year THS coach made up his mind: Tonganoxie would go for broke if it reached the end zone.
When Dylan Faulconer hauled in an improbable TD catch from Carlisle on third-and-19, Elston felt like his squad had momentum. Plus, the coach thought the THS defense was "starting to run out of steam."
The defense certainly held up through most of the intense rivalry game with BLHS (6-1). Following a potentially crushing turnover from Tonganoxie (5-2) in the final two minutes of regulation, corner Shawn Marin picked off a Leppke pass to help force the game to overtime. Prior to that, the Chieftains knocked the Bobcats out of the red zone with under four minutes to go with a combined sack from Jason Espeland and Jeff Sims on second down and a Dane Gonser sack on third-and-16.
THS senior running back Jeremie Maus busted a 49-yard TD run with 10:33 to go in the fourth quarter, and an extra point from Amos White, who hit all three of his attempts, tied the game at 21.
Senior Tonganoxie back Austen Holloway gave the Chieftains confidence early with two first-half rushing touchdowns. On the opening drive, he devoured 58 yards on four carries, capping it with a 41-yard score.
The Bobcats limited Carlisle's productivity. After racking up nine rushing scores in Tonganoxie's previous two outings, the shifty junior QB failed to reach the end zone while carrying the ball 21 times for 79 yards.
The thriller was the Sunflower Broadband Ch. 6 Game of the Week and can be viewed on Saturday morning at 11 a.m.
The district-opening loss was Tonganoxie's first in the Kaw Valley League, putting the team at 2-1 in KVL play.
Next Friday, the Chieftains play host to Piper (5-2).
Score by quarters
THS 7 7 0 7 0 6 — 27
BLHS 7 7 7 0 0 7 — 28
THS rushing: Jeremy Carlisle 21-79, Austen Holloway 11-76, Jeremie Maus 6-46, DJ Lindsay 4-15.
THS passing: Jeremy Carlisle 4-10-64 one TD, one intercepted.
THS receiving: Justin Jacobs 2-21, Dylan Faulconer 1-19, Jeremie Maus 1-24.
Scoring
T — Austen Holloway 41 run. Amos White kick.
B — Ryan Murphy 9 pass from Brandon Leppke. Bobby Courtney kick.
T — Holloway 5 run. White kick.
B — Richie O'Donnell 15 pass from Leppke. Courtney kick.
B — Leppke 3 run. Courtney kick.
T — Jeremie Maus 49 run. White kick.
B — Colin Murphy 10 pass from Leppke. Courtney kick.
T — Dylan Faulconer 19 pass from Jeremy Carlisle. Conversion failed.