Community mourns loss of officer, friend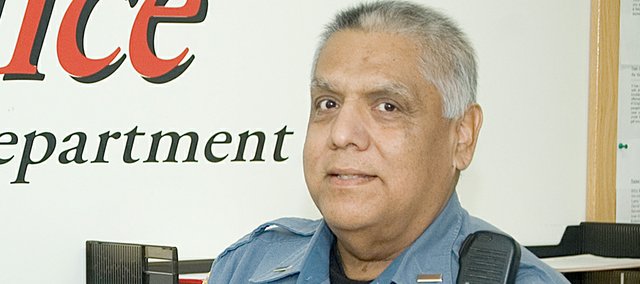 Photo Gallery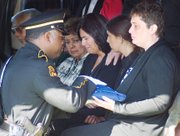 Funeral for Lt. Jose Antonio Hernandez
Around 150 people attended the funeral of Lt. Tony Hernandez Monday in Tonganoxie. Hernandez passed away Oct. 16. He was buried at the Maple Grove Cemetery.
Tony Hernandez was not the typical hospice patient, according to John Kimbrough, chaplain for Grace Hospice in Kansas City, Mo.
Despite being terminally ill with lung cancer, Hernandez would often be seen in his Tonganoxie Police Department uniform while on duty. Sometimes, this posed a problem for Kimbrough, who was assigned to the Tonganoxie Police Department lieutenant.
"I would call ahead to make sure Tony was home," he said. "I quickly found out that Tony would be one of four places: he would be at home with his family, on his recliner, watching 'Law and Order;' he would be at the police station; he would be in a squad car patrolling the streets of Tonganoxie; or he would be at Bichelmeyer's eating a BLT sandwich with the bacon just right."
On Monday, around 150 friends, family and colleagues gathered in Tonganoxie to pay their last respects to the longtime lawman at a memorial service in Quisenberry Funeral Home and burial in Maple Grove Cemetery. Hernandez died at his home Friday.
"It was a really sad day for everyone here in Tonganoxie," said Tonganoxie Mayor Mike Vestal Friday. "We knew it was coming, but when it actually comes… it is very sad. It wasn't a good day for us in Tonganoxie. He'll be missed."
In October 2008, Hernandez was diagnosed with lung cancer. Despite receiving treatment for the cancer, Hernandez recently was placed in hospice care.
Hernandez did not let the diagnosis keep him from continuing his 37-year career in law enforcement.
Vestal said Hernandez continued working at the station doing desk work and occasionally riding with other officers on patrol until three weeks ago when he was just too sick to work.
When he couldn't come in, Tonganoxie Police Chief Kenny Carpenter said he would feel sorry that he was going to miss a shift.
"The day before he passed away he was trying to put on his uniform and come in to the office," Carpenter said. "That's how much he loved police work."
During the funeral service, Carpenter recalled his time with the Roeland Park Police Department when he would work closely with Hernandez, who was then still with the Kansas City, Kan., Police Department.
He said Tony would always be there if they ever needed him because "he wanted to help people and he enjoyed putting bad guys in jail."
Shortly after Carpenter took over his current position at the police department, Tony came by and said he wanted to come out of retirement and work in Tonganoxie. He was hired in September 2003.
"One of the smartest things I've ever done as chief was to hire Tony," Carpenter said.
Hernandez's family also mentioned how much he loved his job.
Celia Harris, Hernandez's sister, who lives in Kansas City, Kan., said there are many pictures of him as a child dressed as a police officer and when he grew up he always wanted to help people.
She said Hernandez once helped save the life of their neighbor, who was having a heart attack.
Hernandez left behind Christina Hernandez, his wife of 21 years; two sons, Johnathan Wilkerson and Robert Brotherton, both of Tonganoxie; six daughters, Angie Cupp, San Diego, Calif., Paula Hernandez, Olathe, Chrissy Gutierrez, Kansas City, Kan., Alicia Hernandez, Roeland Park, Amy Hernandez, Tonganoxie and Niki Hernandez, Garnett; one brother, Frank Hernandez, Kansas City, Kan; three sisters, Lydia Conchola, Celia Harris and Gloria Norris, all of Kansas City, Kan.; 10 grandchildren; and three great-grandchildren.