THS

football team gives back to the community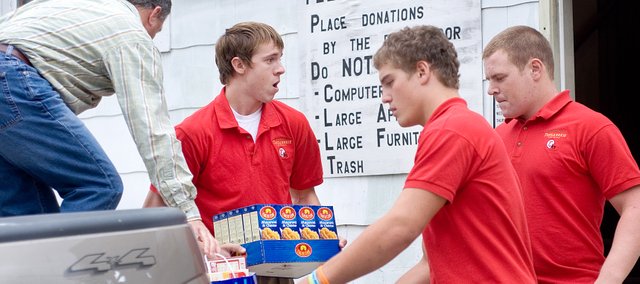 More than a month before the Thanksgiving and Christmas season, the Tonganoxie High School football team is already reflecting on all of the things it is thankful for and getting into the giving season.
On Friday THS coach Mark Elston and THS seniors Jeremie Maus, DJ Lindsay, Dane Gonser, Ben Myers and Dylan Young delivered food items to the Good Shepherd Thrift Store and Food Bank.
"I think it's good to give back to the community," Myers said. "Sometimes in school we take for granted all of the things that we are given. It feels really good to give back."
In total the team collected a little less than 700 items to give to the thrift shop.
Elston said the community has always been so good to the team by providing it with meals on Thursdays and while they watch tape on Sundays. He said this was a good way the team could come together and show its appreciation.
"This ought to feed a few families," Elston said about the bags of food that filled his truck. "A good meal will put a smile on anyone's face."