Tonganoxie volleyball 3rd at
KVL

tourney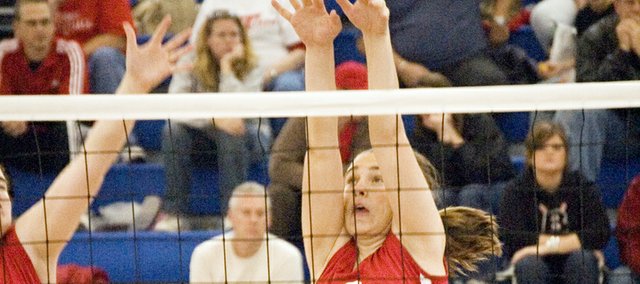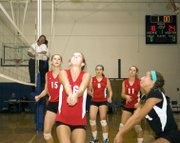 Perry — The Tonganoxie High volleyball team rode its recent surge into the Kaw Valley League tournament at Perry-Lecompton on Saturday and went home with third place.
The Chieftains went undefeated in pool play in the morning before losing to Mill Valley in a semifinal and finishing the tournament with a victory over Basehor-Linwood.
Going 5-1 on the day, Tonganoxie has now won nine of its last 10 matches.
THS (23-13) started the day by knocking off Santa Fe Trail, Basehor-Linwood, Bonner Springs and Bishop Ward to win its pool.
It wasn't until the Chieftains met up with the Jaguars in a semifinal that they ran into trouble. Although Tonganoxie jumped out to an early lead in the first set, MVHS, which lost to KVL champ Lansing in the final, finished on a 6-3 run to take that game, 25-22, and dominated the next game, 25-11.
But THS bounced back in the third-place match, leading the first game in its entirety on the way to a 25-19 win and putting together an impressive rally to win the second game, 25-22.
Trailing 19-10 in the second set, a third game seemed inevitable, but Tonganoxie refused to lose to a BLHS team it had defeated twice already in the past eight days.
An Abby Eisman kill ignited the rally. Then a Molly O'Hagan block set off a 4-0 THS spurt.
And even though the Bobcats took a 22-16 lead, Tonganoxie put together a dominating 9-0 stretch to clinch the victory.
O'Hagan placed a tip perfectly to start the run then served the ensuing eight points to close out the match.
Danielle Miller came up with a block that cut the deficit to three points and THS later took the lead and momentum with a pair of Eisman kills.
The Chieftains close their regular season on Tuesday with a 7 p.m. dual against Bonner Springs. Next Saturday, THS will travel to Piper for a sub-state tournament.
Tonganoxie at KVL tournament:
Pool play
Santa Fe Trail, W, 28-26, 25-22
Basehor-Linwood, W, 25-20, 25-20
Bonner Springs, W, 25-9, 25-19
Bishop Ward, W, 25-18, 17-25, 25-11
Semifinal
Mill Valley, L, 25-22, 25-11
Third-place match
Basehor-Linwood, W, 25-19, 25-22