Chieftains find their 'Happy' place
Schutz's tap leads to
THS

soccer win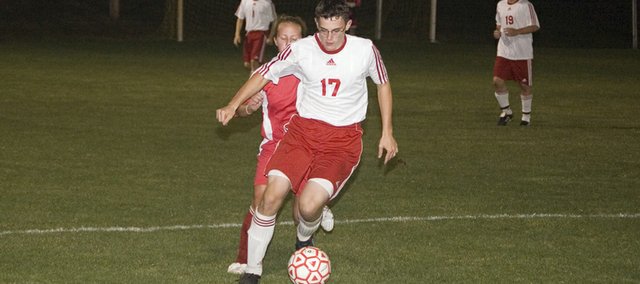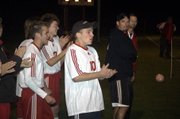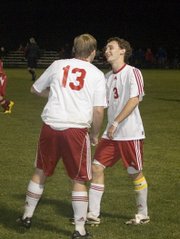 If the Chieftains want to score more soccer goals, they may need to heed the advice a golf caddy once gave a hockey player.
That may sound convoluted but Tonganoxie High senior Preston Putthoff said it wouldn't hurt he and his teammates to channel the teaching of the character Chubbs from the Adam Sandler movie "Happy Gilmore."
When Happy, a horrible hockey player trying to make it on the pro golf circuit, is having problems with his putting, Chubbs tells him to just tap it in.
That's exactly what Kenny Schultz did to score Tonganoxie's only goal in a 1-0 win against Atchison on Monday night at Chieftain Park.
Putthoff chased down a ball in the right corner and then played it in front of the net, where he saw Schultz and Bret Koch.
"I just kicked it up there and luckily Kenny got it and scored," Putthoff said.
Schultz said he just gave it a touch — or as Happy would say, a "tap, tap, taperoo" — in the 64th minute and it proved to be Tonganoxie's only goal, even though the team had plenty of other chances.
"We feel like we've got to crush the ball to get it in the goal," Putthoff said, "but really we just need to tap it in — just like Happy Gilmore."
The Chieftains might be able to parlay a win against Atchison (9-5) into a Happy Gilmore-esque run in the postseason with some improved confidence. Schultz said the victory might just be the boost THS (5-8-2) needed.
"We've just been unlucky the past couple of games and made it happen tonight," the senior forward said.
AHS came in ranked No. 3 in Tonganoxie's region, and although THS was No. 9, it looked like the better team Monday night.
"They came in thinking … they were gonna walk all over us," Schultz said.
That was hardly the case. Atchison's scoring attempts were few, and when the visitors got them, they were stymied by THS goalkeeper Keaton Truesdell, who had five saves in just his second start in goal.
The Chieftains, on the other hand, were the aggressors. Tyler Bartholomew, Jake Willis, Mitch DeHoff, Koch, Tyler Woolworth and Matt Titterington all attempted shots.
"Our record is not what our team is," Schultz said.
Added Putthoff: "We're a lot better than what people expect."
Coach Ken Lott believes those statements to be true, and he was happy with his team's play in the home win.
"It's just good to see them play to their potential and they finally did tonight," Lott said.
The coach hoped that the victory would give THS much needed momentum headed into next week, when the playoffs begin.
"Once you get on a roll, it's kind of hard to stop," Lott said, adding that the team can compete with anyone.
Some tough losses earlier this year might have delayed the team's progress, but Lott said Tonganoxie could still make a statement in the postseason.
"They're a fighting group, and they'll keep fighting until the game's over, and that's what they need to do to win," Lott said.
The Chieftains close their regular season on Tuesday at Atchison.
Playoff matchups will be announced on Saturday.