Four
THS

runners in top 20 at

KVL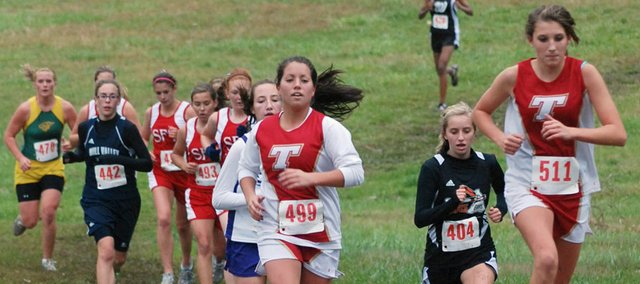 Photo Gallery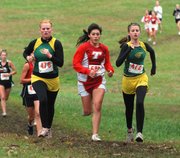 THS cross country at KVL
Both Tonganoxie cross country teams finished fifth at the Kaw Valley League meet on Thursday at Shawnee.
On a cold, muddy course Thursday in Shawnee, both Tonganoxie High cross country teams took fifth place at the Kaw Valley League meet.
The Chieftains had two runners finish in the top 20 of both races.
In the girls 4K, senior Andie Jeannin placed 14th after getting tripped up in some mud early on, which knocked her off her usual pace and might have cost THS a spot in the team standings. Alex Hauk also ran well for THS, placing 18th.
In the boys 5K, sophomore Caleb Himpel finished 13th, just a few seconds away from the top 10, with a time of 18:13. Dalton Harrington was close behind him at 18th (18:30).
It was a solid day for both teams as they battled talented KVL rosters.
"There are a lot of great runners," said Keith Slater after competing in his first varsity league race.
Slater was in a group of four Chieftains who took spots 31-34 as Justin Soetaert, Slater, Joel Dunning and Patrick Rachford ran the course within 23 seconds of one another. Slater said he was happy with the team's effort.
"We ran well," he said. "We didn't give in with the weather and everything — it was really cold. There was some excuse we could've taken."
One such potential excuse was that the Chieftains hadn't faced live competition since Oct. 1 at the Lansing Invitational. But Slater said the break wasn't a factor.
"We weren't as accustomed to it … but I think we were prepared," he said.
Slater said he and his teammates had specific targets when looking for runners to pass on Thursday. Coach Phil Williams encouraged them before the race started to at least finish ahead of rival Basehor-Linwood.
Slater said he saw green and yellow on the course and thought: "I've gotta pass this guy."
The Chieftains responded by placing one spot ahead of the Bobcats in team scoring.
The THS girls weren't able to finish ahead of BLHS, but that didn't make the day a failure. The team's fifth-place finish came with three runners — Cristina Rubio, Parker Osborn and Taylor Clark — who hadn't seen much varsity action this season.
"I thought we did really good," said Nikki Beggs, who finished 31st with a time of 18:52.
She said the key for her was keeping pace with teammate Shelby Maxon, who finished just two seconds behind her at 32nd.
"Me and Shelby stayed really together the whole way there," Beggs said of her strategy. "We push each other to go faster and we pass people together."
Tough regional
Next up for Tonganoxie's cross country runners is a Class 4A regional — 3:30 p.m. start time for the girls race and 4:30 p.m. start time for the boys race — Saturday at Wyandotte County Park.
Williams said it would take the Chieftains' best effort of the season to qualify as a team for state. Favored teams at the regional, he said, are the boys and girls from De Soto, Baldwin and St. James Academy, as well as the girls from Bishop Ward and BLHS and Paola's boys.
But that doesn't mean THS will be without a state qualifier. The top three teams qualify all their runners but the top five runners from non-qualifying teams also earn a trip to state.
KVL cross country
Oct. 15 at Shawnee Mission Park
Girls 4K
Team scores: 1. Mill Valley, 45; 2. Lansing, 57; 3. Basehor-Linwood, 75; 4. Bishop Ward, 122; 5. Tonganoxie 131; 6. Santa Fe Trail, 138; 7. Perry-Lecompton, 168; 8. Bonner Springs, 170.
Top 5: 1. Katie Hirsch, PLHS, 16:16; 2. Kayla Peterson, BLHS, 16:43; 3. Lauren Jaqua, LHS, 16:45; 4. Hannah Tush, BLHS, 16:48; 5. Kelsey Wakefield, MVHS, 16:49.
THS results: 14. Andie Jeannin, 17:25; 18. Alex Hauk, 17:55; 31. Nikki Beggs, 18:52; 32. Shelby Maxon, 18:54; 43. Cristina Rubio, 20:18; 45. Parker Osborn, 20:25; 49. Taylor Clark, 20:46.
Boys 5K
Team scores: 1. Mill Valley, 40; 2. Santa Fe Trail, 81; 3. Turner, 83; 4. Bonner Springs, 108; 5. Tonganoxie 124; 6. Basehor-Linwood, 143; 7. Piper, 175; 8. Lansing, 182; 9. Perry-Lecompton, 221.
Top 5: 1. Brooks Ballou, BSHS, 16:46; 2. Pete LaMoe, LHS, 17:29; 3. Brian Mosier, PHS, 17:32; 4. Edward Reed, Turner, 17:34; 5. Jacob Rohrer, MVHS, 17:40.
THS results: 13. Caleb Himpel, 18:13; 18. Dalton Harrington, 18:30; 31. Justin Soetaert, 19:19; 32. Keith Slater, 19:30; 33. Joel Dunning, 19:36; 34. Patrick Rachford, 19:42; 41. Brady Field, 20:14.