Reaching new heights:
THS

volleyball has won 9 of 10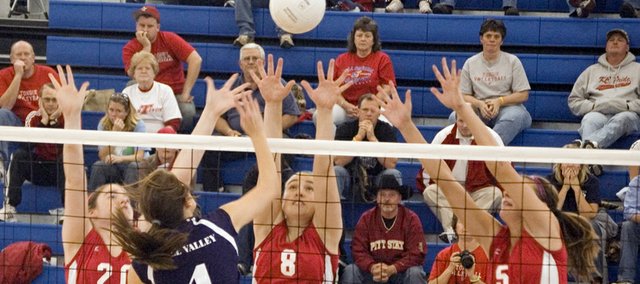 Photo Gallery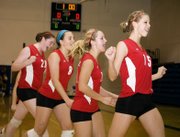 THS volleyball 3rd at KVL tourney
The Tonganoxie High volleyball team went 5-1 at the Kaw Valley League tournament in Perry on Saturday to take third place.
Perry — Looks like the Chieftains are tired of being average.
After alternating wins and losses for the first month of the season, Tonganoxie High's volleyball team showed how far it has come in the past two weeks at the Kaw Valley League tournament Saturday.
The Chieftains entered on a winning streak and extended it through pool play before eventually finishing third in the KVL with a 5-1 mark at Perry-Lecompton.
After sweeping Santa Fe Trail, Basehor-Linwood and Bonner Springs — all before the team's first bye — Tonganoxie knocked off its pool's top seed, Bishop Ward, to earn a berth in the semifinals.
It was there, against Mill Valley, that THS (23-13) suffered its only loss of this past week, but the Chieftains regrouped quickly to beat BLHS once more in the third-place match.
Tonganoxie co-coach Brandon Parker said the team showed better aggression at the tournament by making plays at the net. Molly O'Hagan led the team in that area and got plenty of help from Danielle Miller, Abby Eisman, Brooklyn Kerbaugh and Jenny Whitledge.
Parker said libero Shyanne Gergick and Megan Hummelgaard picked up some digs, which helped a great deal, and senior Maggie Franiuk hit some tough balls. The setters, Ali George and Hannah Kemp, also assisted throughout a day in which, Parker said, everyone had their moments.
"We were pleased with all of them," he said.
The only unpleasant part of the tournament for THS was the semifinal loss to Mill Valley.
O'Hagan said the team was off the entire match and couldn't find a groove.
"We weren't on our top game," she said. "We weren't swinging in the right places, we weren't passing."
Parker agreed, citing that THS didn't even play well in the first game and lost by just three points.
"I didn't think our energy level was good, and yet I thought Mill Valley played real well," Parker said. "They dug a lot of our attacks, they were passing well. They were just on."
The setback in the semis was Tonganoxie's only blemish in its past 10 matches. Since losing in the De Soto Spikefest final Oct. 10, THS is 9-1.
It was after that loss, O'Hagan said, that the team turned a corner. The players were emotional after losing to Central Heights and finishing second, but they were there to support one another in that moment. O'Hagan said the Chieftains have been clicking on the court since then.
"We're a team now," she said, adding that each player has the mentality of: "These girls are here for me, and I'm here for them."
Miller said the team has simply felt more comfortable during its recent surge.
"We're finding a rotation that really works and people are fitting into their spots and doing their jobs," she said. "We're just coming together."
Not only that, but Parker said the squad has more grit and determination.
"We're playing tougher. Case in point, that last Basehor game," he said, referring to a terrific comeback when THS recovered from a 19-10 deficit to win.
Miller said the rally, which sealed third place for Tonganoxie, gave the players even more confidence.
"When you can come back from that far down, it makes you see that you can really do it, and you can come back from anything," she said.
With what Parker called a back-heavy schedule (which includes a Tuesday home match with Bonner Springs), the team's improvement may have been inevitable. With more experience, the coach said, THS is playing smarter.
"I think we're starting to see the game a little better," Parker said. "We didn't see the game very well early in the year. We just kind of played it, and when you play it, it will play you."
Sub-state up next
The Chieftains don't want to get played this Saturday, when they travel to Kansas City, Kan., for a sub-state tournament at Piper.
O'Hagan said if Tonganoxie wants to win there, with a state-tournament berth on the line, the players have to look no further than the team's win against Bishop Ward for a blueprint.
The Chieftains won that match, 25-18, 17-25, 25-11, and got contributions from everyone. O'Hagan, Whitledge, Franiuk, Eisman, Miller and Kerbaugh all had kills in that victory, and Gergick, Miller, Eisman, Kemp and O'Hagan contributed aces. George, meanwhile, kept setting up her teammates.
Sub-state matchups will be announced Wednesday. Go to tonganoxiemirror.com to see who THS will play.
Possible sub-state foes for the Chieftains are: Atchison, Basehor-Linwood, Bishop Ward, Piper, Pleasant Ridge, St. James Academy and Sumner Academy.
In last week's Kansas Volleyball Association rankings, St. James was ranked No. 1 in Class 4A.
KVL Tournament results
Lansing
Mill Valley
Tonganoxie
Basehor-Linwood
Bishop Ward
Perry-Lecompton
Santa Fe Trail
Piper
Bonner Springs
Turner