THS

not dismayed by

OT

district loss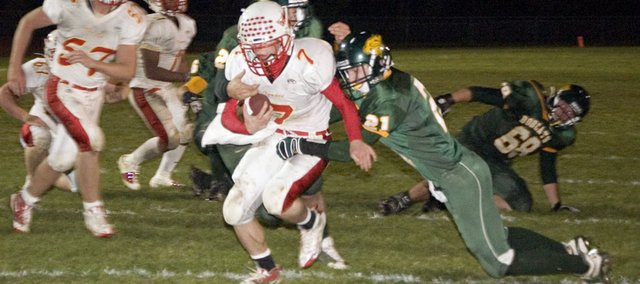 Photo Gallery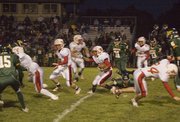 Chieftains lose double-overtime heartbreaker
Tonganoxie High suffered a 28-27, double-overtime loss in its district football opener on Friday at Basehor-Linwood.
Basehor — They may have lost. It might have hurt. Outsiders could second-guess. But the Chieftains left their district opener Friday at Basehor-Linwood with some morale-boosting knowledge: This football team isn't rolling over for anyone.
Although Tonganoxie High lost in potentially devastating fashion, 28-27, in double overtime to its league rival, the team with less size and depth held its own and is ready to focus on the positive, take on its next two opponents and contend for a spot in the playoffs.
THS (5-2) was immeasurably close to leaving Basehor with a win. But a two-point conversion attempt failed in double overtime.
The Bobcats had already scored and kicked an extra point to take a 28-21 lead when Tonganoxie started its possession. Pairs of offensive penalties and unproductive runs left the Chieftains facing third-and-goal from the 19-yard line. That's when junior quarterback Jeremy Carlisle rolled left and threw up a pass to the front corner of the end zone, where teammate Dylan Faulconer and three nearby BLHS defenders waited. Faulconer leaped, snagged the ball in traffic and got his feet in bounds to keep THS alive.
"I knew it was coming my way, I knew it was gonna be there. I had to redeem myself 'cause I dropped one earlier in the game," the senior tight end said of a more routine catch attempt in the second quarter. "It was my chance to shine and help my team."
What followed was the game's final play. Instead of kicking an extra point to force a third overtime (the first one ended without a score from either team), THS coach Mark Elston decided to go for the victory and had Carlisle run up the middle. But the Bobcats' hefty defensive front swallowed up the QB just inches away from the goal line.
As Elston addressed a dejected group of Chieftains on the field after the heartbreaker, the coach focused on the positive and told his players to do the same because the season was far from over.
Even though the ending didn't go Tonganoxie's way, Elston said it was a classic.
"It was a fun ball game and great to be a part of," he said. "Obviously we would've liked the outcome to be a little bit better."
The best part for the 10th-year THS coach was the way his players stepped up.
"I was super-proud of the kids. I couldn't be prouder," Elston said. "(I'm) disheartened for them but I hope they understand how terrific a game that was."
The Chieftains proved on the game's opening drive that Basehor-Linwood (6-1) wasn't going to win easily. It took just six plays and less than two minutes for THS to reach the end zone as Austen Holloway ran for a 41-yard TD with 10:05 to go in the first quarter.
Although the next offensive series went three-and-out, on Tonganoxie's third possession — which began in the red zone thanks to a Justin Jacobs interception — Holloway scored again and THS took a 14-7 lead.
The Chieftains' confidence soared with Holloway's success, and the senior running back said that helped THS maintain a high level of play.
"I was actually kind of surprised that the holes opened up that much," Holloway said, "but the way we executed throughout the whole game, I thought, was excellent."
A scoreless third quarter from the Chieftains led to a fourth-quarter deficit, but senior running back Jeremie Maus broke away for a 49-yard score with 10:33 remaining in regulation, and Amos White, who drilled all three of his extra-point attempts, tied the game at 21.
The Chieftains' defense held BLHS scoreless in the fourth quarter but really played well the whole night. Maus had two sacks, Dane Gonser got one for himself and Jason Espeland and Jeff Sims combined on another.
Meanwhile, in the secondary, Shawn Marin, Dylan Scates and Carlisle were lighting up BLHS receivers, which is exactly what happened with less than two minutes remaining, when Scates hammered an intended receiver and Marin got a pick with the Bobcats threatening deep in THS territory.
Espeland also had a tackle for loss, and recovered a muffed punt return in the second quarter.
Loss isn't all bad
Elston said the most important lesson learned on Friday was that Tonganoxie has a tough, competitive team.
"We proved that we could play with anybody," Elston said.
Faulconer said many outside the program doubted the Chieftains' ability to compete with Basehor-Linwood, the toughest team THS has faced this season.
"Nobody believed in us," he said, noting that some people predicted Tonganoxie would get blown out. "Nobody still believes in us and we've still got to prove ourselves and that's great motivation."
Holloway said just minutes after the loss that the result no longer mattered.
"I think the team's past it already," Holloway said. "We're ready to play Piper. We lost a close game, but we can't let that stop our season."
The season rolls on with Tonganoxie's regular-season home finale, set for 7 p.m. Friday against Piper, which beat Bishop Ward this past week to start district play 1-0.
After that, it's an Oct. 29 date at Bishop Ward.
Elston said the BLHS loss won't matter if the next two weeks go Tonganoxie's way.
"We win our next two," he said, "we get to play some more games."
District breakdown
Week 1
Basehor-Linwood 28, Tonganoxie 27 (2OT)
Piper 27, Bishop Ward 19
Standings — Team, record, point differential
Piper, 1-0, +8

Basehor-Linwood, 1-0, +1

Tonganoxie, 0-1, -1

Bishop Ward, 0-1, -8