Bulldogs to face
JCN

at sub-state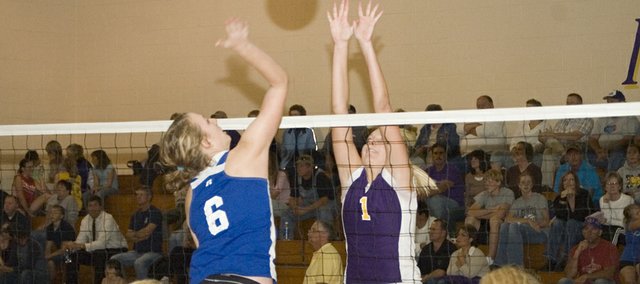 When the McLouth High volleyball team heads to Wellsville on Saturday for its sub-state tournament, it will have a familiar team waiting for it in the first round.
The Bulldogs, who received the No. 6 seed in their Class 3A Wellsville bracket, will face fellow Delaware Valley League school Jefferson County North in a sub-state quarterfinal.
MHS (22-15) just played No. 3 seed JCN (29-9) this past weekend at the DVL tournament in Horton. The Chargers got the best of the Bulldogs, winning 25-13 and 25-18.
The match in DVL tournament pool play was the third this season between the two teams, and Jefferson County North has won all three times.
McLouth faced JCN at a home triangular on Sept. 15. The Chargers won that match, 25-21 and 25-15.
The first matchup between the schools came at a season-opening tournament back on Aug. 29. In their first match of the 2009 season, the Bulldogs lost, 23-25, 26-24, 25-18, to Jefferson County North.
The fourth matchup between the teams will start after a 2 p.m. first-round match between Osage City and Wellsville.
First round sub-state matches at Wellsville:
No. 1 Central Heights (33-4) vs. No. 8 Maur Hill Mount Academy (5-28)
No. 4 West Franklin (24-8) vs. No. 5 Kansas City Christian (23-13)
No. 2 Osage City (31-6) vs. No. 7 Wellsville (15-20)
No. 3 Jefferson County North (29-9) vs. No. 6 McLouth (22-15)