Healthcare workers line up for
H1N1

vaccine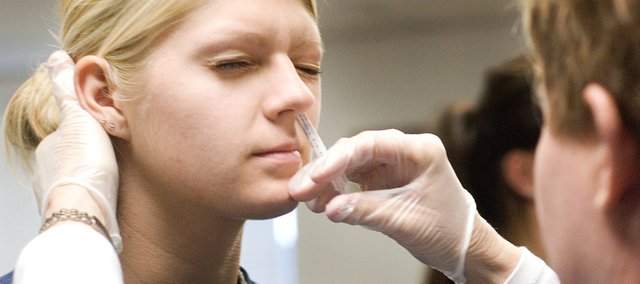 The lines were long as almost 200 area healthcare workers came to the county's first H1N1 vaccine clinic Monday in Leavenworth.
Mary Shelley works for John Knox Village home health. She said she took her place in line for the vaccination at about 4 p.m. By 5:45 p.m., she was still waiting.
Although the vaccination was not mandatory, she said it was something she wanted to get to help her in her professional life and in her personal life. Shelley said her daughter is pregnant and she doesn't want to take any risks.
"I just don't want to pass anything on because I am in close contact with people every day," the Leavenworth woman said.

The Leavenworth County Health Department distributed 175 doses of the vaccine to healthcare workers who lined up inside and outside of the health department.
Heather Morgan, Leavenworth County administrator, said 15 minutes before the clinic started at 4 p.m., there were already more than 100 people waiting in line.
The health department received a shipment of 1,100 doses of the H1N1 vaccine on Monday. This was in addition to the 400 doses it had received earlier this month.
Morgan said the health department distributed around 300 doses to private healthcare workers with the first shipment.
On Tuesday, Morgan said the remaining doses of the vaccine will continue to go to healthcare workers and then expand to the next group on the Kansas Department of Health and Environments priority list — children between 2 and 9 years old and pregnant women.
She said she wasn't sure when they will be getting the next allocation of vaccine, but the county should be getting them on a weekly basis.
As more of the vaccine becomes available, Morgan said Leavenworth County will be conducting other public vaccination clinics and will be distributing the vaccine to private providers who have agreed to administer the H1N1 vaccine.
"People should go on our Web site (leavenworthcounty.org) to get information on the H1N1 vaccine and to find out when they can get vaccinated," Morgan said.