Police officer accepts badge number of late father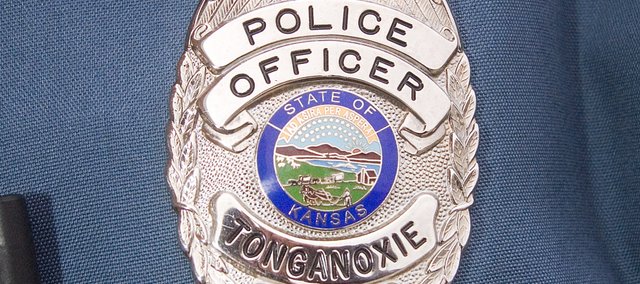 At 4:10 p.m. Aug. 19, 2003, Leavenworth County dispatch made its final call for Tonganoxie police Lt. Mark Williams.
"May you be guided in your journey, and may you rest in peace," a dispatcher said.
Williams, at age 44, died Aug. 16 of that year from complications of a heart attack.
The Tonganoxie Police Department retired Williams' badge number after his death, a sign of respect for a man who had served on the force for 10 1/2 years.
Now, six years later, the badge number is back in service.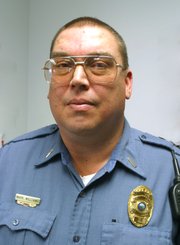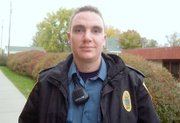 Mark's son, Jake Williams, is an officer with the Tonganoxie department. On June 30, he joined the same police department his father was part of for more than a decade.
"We retired his badge number," Tonganoxie police Chief Kenny Carpenter said. "And we brought it out of retirement and gave it to Jake out of respect for Mark and Jake."
When Jake was hired, Carpenter asked him whether he wanted the badge number. After some thought, Jake accepted.
"I was little a bit conflicted," Jake said. "It was almost a respect thing. But at the same time, it was important to have that number and keep it going."
Jake wears the new badge on his uniform. His father's badge rests in a shadow box with his father's nametag and Tonganoxie police badge.
Tonganoxie Mayor and police dispatcher Mike Vestal said when Carpenter posed the idea of bringing the badge number out of retirement, he agreed wholeheartedly.
"We wouldn't have done it for anybody else," Vestal said. "But with Jake coming in and applying and doing so well in the interview, we were very impressed with him."
Dreams of being an officer
Jake, who is 23, is a 2004 Tonganoxie High School graduate and graduated in May from the law enforcement academy at Missouri Southern State University in Joplin, Mo.
He said he decided to apply for a position at the Tonganoxie Police Department because his father worked there.
"It's really neat, especially hanging out with a lot of the older guys who worked with him," Jake said. "It's definitely a fun job."
Some youths aren't sure of what career path they wish to take until they're in college — or later.
That never was the case for Jake, who said he determined at the age of 5 he wanted to be a police officer. His father being in law enforcement — Mark worked as a campus police officer at Wichita State University before joining the Tonganoxie Police Department — was Jake's biggest influence.
Recalling his father's death, Jake said Mark's passing was of course difficult, but "didn't really influence me one way or the other" with regards to wanting to be a police officer.
"But it did make me want to do something he would be proud of and carry out the family tradition of law enforcement," he said.
Jake noted several relatives in law enforcement, including a cousin who is a police officer in San Diego.
Continuing in the profession
Mark Williams actually was serving as acting police chief when he died. He was serving in the interim position for Carpenter, who was called to active duty for a year, traveling among four states doing physical security inspections at Army reserve armories.
Carpenter said he's glad to see Jake in the same line of work as his father.
"We're happy to see that Mark's son is now in law enforcement and doing well," Carpenter said. "But as far as him working here, it's no different than any other young officer we would hire. He's here because of who Jake is, not because of who his dad was.
"He's doing a good job," Carpenter said. "We're happy with his performance."
Jake said it was "really exciting" to be working in the same department as his father, and the location provides extra motivation.
"It's something that gives me a lot more drive," Jake said, noting his father always was known for being a fair law enforcement official. "He had a really good reputation with everyone. I still meet people to this day who say, 'Oh, he was such a nice guy' or 'He was a wonderful guy' and I'm trying to carry that on."
Vestal looks for the next Williams generation to be successful in Tonganoxie.
"Oh yeah, I do, I see his dad in him," Vestal said when asked whether he saw similarities between Jake and his late father. "He's doing a great job. For somebody who's not been in law enforcement before, he's doing a great job.
"He handles himself very well. Yeah, I'm impressed with him."
Vestal was encouraged to see Jake want to come back to Tonganoxie and work. And if he decides to leave the department, the memory of his father will continue to be honored.
"When Jake leaves, if Jake ever leaves, we'll retire that number again," Vestal said.