Tax rebate discussion on hold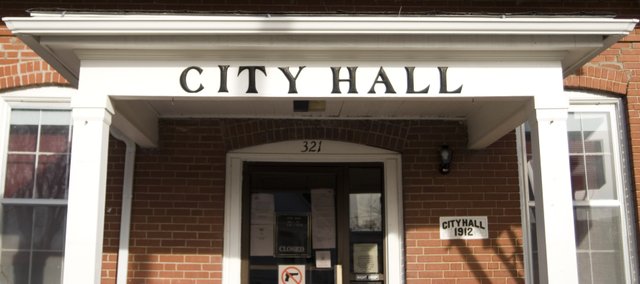 City leaders and area developers wants to stay competitive when it comes to attracting new homeowners into the city, but for now, they are awaiting word from the Kansas Attorney General's office before offering any tax incentives.
During a work session Monday night, city leaders continued their discussion on a plan that would rebate a percentage of its portion of property taxes on new home construction.
Councilmember Jason Ward said he wanted the city to be competitive with surrounding cities and their programs.
"To the extent that we can do it without putting ourselves in a position of liability, then I think we do everything in our power to encourage development," he said.
The Tonganoxie City Council is awaiting an opinion from Kansas Attorney General Steve Six on what kind of areas the city would be able to define as a revitalization district.
Once the city has the opinion, it will be able to determine what areas of town it could choose as a revitalization district that would benefit from a tax incentive program.
Mike Kelly, the city's attorney, said a previous opinion from the Attorney General's Office stated that cities could not encompass the entire city limits as a revitalization district.
A possible roadblock to the program is its cost.
Mike Yanez, city administrator, said the city has incurred debt to maintain its infrastructure. He said the city's debt service was structured to expected growth of at least 5 percent each year in assessed valuation.
Last year the city's valuation assessment increased by less than 2 percent, and with only 10 building permits issued so far this year, Yanez doesn't expect it to get any better.
"If there were no valuation increases we could be looking at a tax increase of four mills," Yanez said.

If city leaders didn't want to raise taxes, they would have to look at serious cost cutting measures, he said.
The idea for a tax rebate program comes on the heels of a rebate program recently approved for Basehor. City leaders had previously discussed the issue, stating they wanted to be competitive with other cities in the county.
In the Basehor plan, new residential structures would have 100 percent of property taxes rebated for three years. The amount would drop to 50 percent for three years after that. For new commercial structures, 85 percent of the property taxes would be rebated for the first three years. The percentage would drop to 25 percent for the following three years. Additionally, the structures must be assessed at a minimum of $140,000.
The Basehor Community Library, Fairmount Township Fire District and Basehor-Linwood School District have agreed to rebate their portion of property taxes as a part of this program. Leavenworth County Commissioners have also agreed to rebate their portion of property tax, but will retain 5 percent for administrative costs.
"I don't think this is a program that we would want forever," said Dan Lynch, owner of Lynch Real Estate. "We just want something to remain competitive. I just don't want another city to have an advantage over our city. I want to keep people coming to Tonganoxie."
Police codes
As part of Monday's work session, the Tonganoxie City Council, along with Kenny Carpenter, Tonganoxie's chief of police, went through three chapters of the city's uniform traffic code.
Among some of the proposed changes would be whether to allow city residents to park cars on their front lawns.
Carpenter said that the proposed code would make the city look nicer, but it was difficult to enforce and usually not a popular law.
"As a city you have to decide if we want to be a city where we park in our front yards or not," Ward said.
Councilmembers Burdel Welsh and Paula Crook voiced concerns that washing one's car on the lawn would be illegal and property rights would be infringed.
Ward and fellow councilmember Tom Putthoff , meanwhile, said they wanted to avoid people parking RVs or other vehicles on a property year-round.
On one side of the table, councilmembers Burdel Welsh and Paula Crook wanted to allow vehicles to be parked on front laws.
Crook stated that when she washes her car she usually moves it to her front lawn or when she wants to clear her driveway to get her motorcycle out of the garage, she moves a vehicle to the lawn, but the proposed change would make that illegal.
Welsh was worried that the proposed change would have too much of an impact on people's property rights.
"That's one of the reasons why I live in Tonganoxie and not Lawrence or Johnson County," Welsh said. "I want a little bit of rule flavor in my community."
On the other side, Ward and councilmember Tom Putthoff said they wanted to avoid people using their lawns to park RVs or trailers in their lawn all year long.
"Right now there is nothing to stop someone from parking six vehicles on their lawn, Ward said. "It's not fair to the neighbors. It's just not. I understand doing it for convenience and doing it every once in a while, but when somebody else's habits regarding their personal property and vehicles impacts the value of my property it's not right."
The council said it was going to table this section of the traffic code and look at how other neighborhoods about the same size as Tonganoxie handle the situation.