THS

volleyball receives No. 4 sub-state seed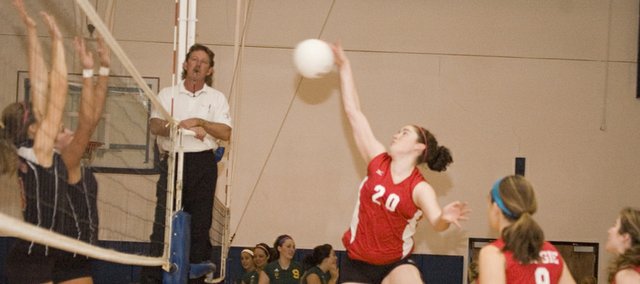 The Tonganoxie High volleyball team has won more matches this season than all but one team in its sub-state bracket but will be playing as the tournament's No. 4 seed.
When KSHSAA released sub-state brackets on Wednesday, the Chieftains (24-13) received a less favorable seed than No. 2 Sumner Academy (23-10) or No. 3 Bishop Ward (21-11) because seeding is determined by winning percentage and strength of schedule is not part of the equation.
As the No. 4 seed in its sub-state, Tonganoxie received a tough draw. Not only will the Chieftains open play on Saturday in Kansas City, Kan., against No. 5 seed and host Piper, but a victory in that match would in all likelihood mean a semifinal matchup with No. 1 St. James Academy, which enters with a 32-4 record and a No. 1 ranking in all of Class 4A by the Kansas Volleyball Association.
Of the seven other teams in the bracket, Tonganoxie has played and defeated four of them in 2009. The Chieftains have wins over Pleasant Ridge, Basehor-Linwood, Bishop Ward and an Oct. 13 win at Piper.
The Chieftains' first-round match with Piper will be played after a 1 p.m. match between St. James and Pleasant Ridge.
Visit tonganoxiemirror.com on Saturday for results and photos from the sub-state tournament.
First round sub-state matches at Piper:
No. 1 St. James Academy (32-4) vs. No. 8 Pleasant Ridge (12-23)
No. 4 Tonganoxie (24-13) vs. No. 5 Piper (19-19)
No. 2 Sumner Academy (23-10) vs. No. 7 Atchison (13-23)
No. 3 Bishop Ward (21-11) vs. No. 6 Basehor-Linwood (17-18)