Commissioners approve annexation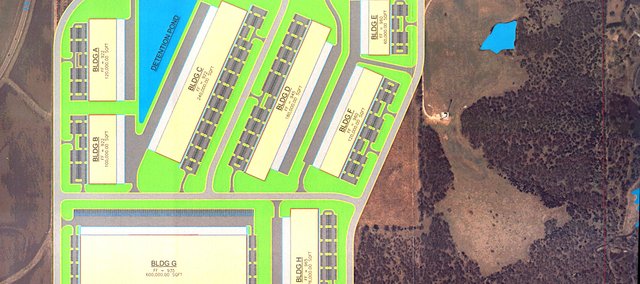 Tonganoxie just got a little bit bigger.
On Thursday, the Leavenworth County Commissioners unanimously voted to allow island annexation of 237 acres of land south of Tonganoxie.
"In our view, this request for annexation is simply a request to help assure the citizens of Tonganoxie that we can regain some of the money that we've expended for the purchase of that property and, if the site is indeed selected, continue to participate and expend funds for the development of that site," Jason Ward, Tonganoxie councilmember, said during the hearing.
Tonganoxie Mayor Mike Vestal, along with Ward and Mike Yanez, the city administrator, attended the annexation hearing on behalf of the city.
The land was purchased as part of the county's attempt to find and develop a new industrial park.
During the hearing, Commissioner Clyde Graeber said he had no reasons to not allow the island annexation for the city when the commission has granted other island annexations for Basehor and Lansing.
Commissioner J.C. Tellefson said he wanted to thank the city for taking the initiative of making an investment to start developing that area and he would like Tonganoxie to continue gaining more land to the south.
"It's a difficult thing, I would imagine, having never done it, to provide all of the services that a city does provide from one area to the next while skipping over areas," Tellefson said. "I would be very supportive as soon as you can, come back to us so we can start the process of rolling you south to include that whole area down to Kansas Avenue."
There were no members of the public who came to speak in favor or against the annexation during the hearing.
The city will officially take control of the land after a 30-day protest period expires.
The city, in October 2008, purchased land in the southeast corner of Kansas Avenue and County Road 1 for $1.38 million.
An initial engineering study estimated the cost to develop 144 acres of the land for an industrial park to be around $13 million.
"I think this is a good thing for our city," Ward said after the vote. "It allows Tonganoxie to participate in the development of the industrial park. If and when development occurs, we will now be able to enjoy the economic benefits."
The Tonganoxie site is still in competition with an 85-acre tract in Leavenworth for the industrial park. A decision on the location of the new industrial park is expected in the next six months.
Jeff Culbertson, Leavenworth County GIS director, said before the annexation Tonganoxie encompassed about 2,140 acres.