Loss dashes
THS

postseason hopes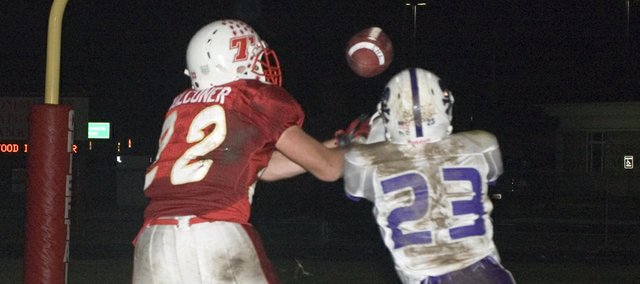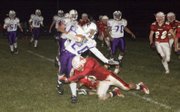 Three turnovers in its final three possessions cost the Tonganoxie High football team dearly in a 25-22 loss to Piper on Friday night.
The setback in the Chieftains' second district game killed the team's postseason hopes.
In the final nine minutes of action at Beatty Field, Tonganoxie (5-3) had three possessions while trailing the Pirates (6-2) by just three points but each one ended with a Piper takeaway.
The first came in the red zone on an option pitch right. THS junior quarterback Jeremy Carlisle was tossing the ball to senior DJ Lindsay when a Piper defender got a hand on the pitch and PHS recovered the fumble.
After Tonganoxie's defense forced a punt, with just under 2:30 remaining Carlisle hit Lindsay for an eight-yard pass but Lindsay fumbled and Piper recovered.
Tonganoxie's defense again held its ground to give the team one final shot.
With 99 yards of field between the Chieftains and the end zone, and less than a minute to go, Carlisle threw up a pass for Lindsay on first down that was intercepted at Tonganoxie's 30-yard line.
THS coach Mark Elston thought the game would come down to turnover margin, and he couldn't have been more correct.
It was the second straight difficult loss for Tonganoxie (after losing 28-27 in double overtime at Basehor-Linwood the week before). Elston said this loss was especially tough because the players had poured so much effort into the past two weeks.
"They don't have much to show for it other than moral victories and I don't think moral victories were what we were after at this point," Elston said.
Like all of his teammates, Carlisle was bummed after the loss.
"I feel absolutely horrible," he said. "I know those guys would do anything for me and I'd do anything for them. To know I had two of those last three turnovers is just horrible because they don't deserve that. This team doesn't deserve that. If I could go back and redo it, in a heartbeat I would."
Tonganoxie trailed the entire game but a 45-yard TD run by senior back Austen Holloway with 10:54 to go in the fourth quarter put THS in position to come back.
Although Piper took a 13-0 lead, the Chieftains got back into the game in the second quarter, when Carlisle hit tight end Dylan Faulconer for a touchdown on two occasions.
Since Basehor-Linwood defeated Bishop Ward, 34-21, on Friday night, the Chieftains will not be eligible for the postseason.
Tonganoxie's season wraps up on Thursday with a trip to Bishop Ward.
Score by quarters
PHS 7 12 6 0 — 25
THS 0 14 0 8 — 22
Scoring
P — Jasper Sanders 2 run. Dustin Yantzi kick.
P — Sanders 73 run. Kick failed
T — Dylan Faulconer 9 pass from Jeremy Carlisle. Amos White kick.
P — Sanders 23 run. Conversion failed.
T — Faulconer 8 pass from Carlisle. White kick.
P — Sanders 6 run. Conversion failed.
T — Austen Holloway 45 run. DJ Lindsay run.
THS rushing: Austen Holloway 17-156, Jeremy Carlisle 12-43, Jeremie Maus 7-35, DJ Lindsay 6-32.
THS passing: Jeremy Carlisle 5-9-53 two intercepted.
THS receiving: Dylan Faulconer 3-33, DJ Lindsay 2-20.