THS

volleyball season ends in sub-state semi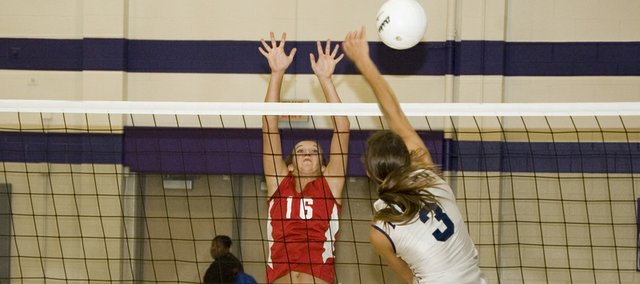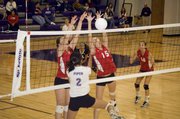 Kansas City, Kan. — The Tonganoxie High volleyball team's 2009 season came to an end in a sub-state semifinal on Saturday evening.
The Chieftains were knocked out by Class 4A's top-ranked team, St. James Academy, at Piper High.
Although THS took early leads in both games against the Thunder, the deep and talented squad rallied on both occasions for wins of 25-10 and 25-14.
Tonganoxie (25-14) won its first-round match against host Piper in two sets, 25-11 and 25-20.
Although the Chieftains trailed late in the second game, senior Maggie Franiuk tied the match at 20 with a block. On the final three points of the match, Molly O'Hagan had a kill, Abby Eisman served up an ace and O'Hagan put the match away with a block.
Serving was a big part of the victory for Tonganoxie as Eisman, Ali George, Shyanne Gergick, Hannah Kemp and O'Hagan helped the team tally seven aces in two games.
At the net, Eisman and O'Hagan led the team with four kills apiece and Franiuk had a pair of kills.
For much more on Tonganoxie's sub-state tournament, see the Oct. 28 print edition of The Mirror.