Defending champs too much for Chieftains at sub-state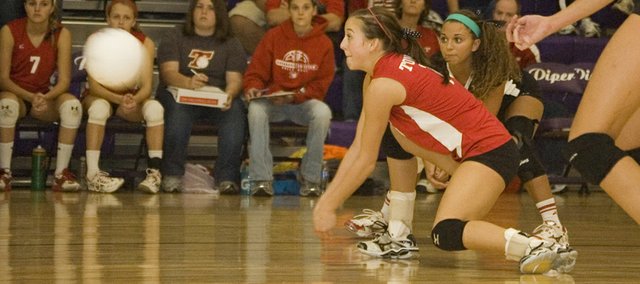 Photo Gallery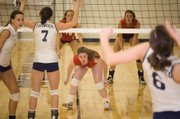 Tonganoxie volleyball season ends at sub-state
Tonganoxie High's volleyball season came to a close on Saturday at a sub-state tournament in Kansas City, Kan.
Kansas City, Kan. — Sometimes earnest desire and effort simply aren't enough.
Unfortunately for the Tonganoxie High volleyball team, that was the case Saturday, when the Chieftains ran into St. James Academy, Class 4A's top-ranked team, in a sub-state tournament semifinal at Piper High School.
Tonganoxie had to scratch and claw to stay alive, and the Thunder's depth and athleticism eventually wore the Chieftains down as St. James Academy prevailed in straight sets, 25-10 and 25-14.
SJA (35-4) seemed to have a solution to every Tonganoxie offensive set, a block or dig for most kill attempts and a great knowledge and feel for the game that was too much for THS (25-14) to overcome.
"They're just good at placing the ball and knowing what to do," said Tonganoxie senior Abby Eisman.
The Chieftains had very early leads in both games against the tournament's eventual winner before succumbing to an onslaught of near-perfect execution from SJA, the defending state champion.
Eisman helped the Chieftains score the first point of the match with a kill and junior Molly O'Hagan improved that lead to 2-0 with a kill of her own.
After the Thunder scored two straight points to tie things up, O'Hagan tipped a ball for another point and a 3-2 advantage.
However, SJA took the lead for good with a 3-0 run and soon put the game out of reach with a 7-0 spurt.
In the second game, an O'Hagan block tied things up at 2, and THS took its only lead, 3-2, on a Danielle Miller kill.
But the Thunder rallied again, negating some solid play at the net from O'Hagan, Miller and freshman Jenny Whitledge.
O'Hagan said the Thunder's strong hitters were too much to overcome.
"They have experienced hitters that are full-on volleyball players," O'Hagan said, noting the private school's roster was filled with recruits. "You can tell they go to that school to play volleyball."
Chieftains co-coach Brandon Parker said this year's SJA team was on par with the one THS faced at state in 2007, and with eight players performing at a high level and dominating ball control, the Thunder was tough to beat.
"They volley for a long time, and they're not predictable in what they're going to do," Parker said.
Not only that, but the foe was dynamic in its attacks. O'Hagan said experience and speed were differences.
"We kept up, I just think they were a tad bit faster," she said.
Often it took a very high level of play from Tonganoxie just to keep a point alive. The Chieftains got huge digs at various points from Eisman, O'Hagan, Megan Hummelgaard and Ali George.
The Thunder's success rate would have demoralized most opponents, but THS didn't quit. Parker loved that the Chieftains kept at it, which was all he could ask for.
"I was proud that our kids did that, especially in that second game," Parker said.
THS got six kills from O'Hagan in the season-ending match, with four more from Miller, three from Whitledge, two from Eisman and one from Brooklyn Kerbaugh. George and Danielle Miller recorded aces against SJA.
Long wait
The semifinal loss came more than three hours after Tonganoxie defeated host Piper in the first round of the sub-state tourney, which was formatted to play all seven games on one court.
Eisman said waiting around that long after beating the Pirates, 25-11 and 25-20, was a nuisance.
"It was hard coming off not playing and then having to get pumped up all over again," the senior said.
O'Hagan agreed, and said her mind had time to wander between matches, which led to her "freaking out" a little bit.
"The nerves set in, the pressure set in during those couple of hours," O'Hagan said. "That's what I hate about sub-state — everything's so scheduled."
Parker said the one-court format made for a long day. He said that was the option THS went with when it played host to a sub-state, but it's different for the road teams because there is no feeling of control.
"This just had a weird feel to it," Parker said, adding that it wasn't the reason Tonganoxie lost. "I just felt like I was in this gray hallway forever."
Eisman reiterated that the layover was no excuse for the team's loss.
"… We just wanted to go out and compete," she said. "We didn't really care when we played them, we knew we were going to get them sometime."
Serving was a big part of the victory against Piper as Eisman, George, Shyanne Gergick, Hannah Kemp and O'Hagan helped the team tally seven aces in two games.
At the net, Eisman and O'Hagan led the team with four kills apiece and Maggie Franiuk had a pair of kills.
By going 1-1 at sub-state, THS finished the season with wins in 15 of its last 19 contests.