District downer:
THS

football can't make playoffs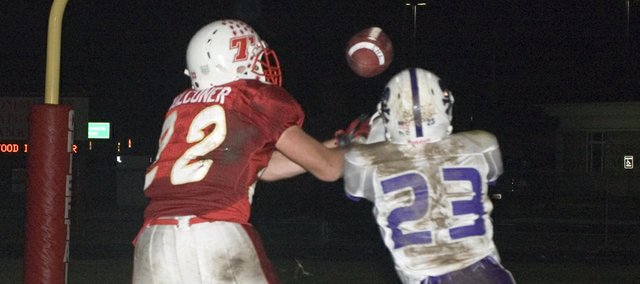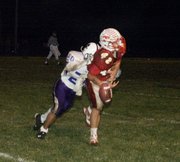 On Friday night, the Tonganoxie High football locker room just south of Beatty Field was a morgue.
For the second straight week, a district game had come down to the last possession, and the Chieftains, once again, had come up short.
The cold locker room was disturbingly silent, the result of a 25-22 loss to Piper and the knowledge that Tonganoxie would not be going to the playoffs.
The Pirates' victory had put Piper at 2-0 in the district, and just down the road at Basehor-Linwood (which defeated THS 28-27 in double overtime the week before), the Bobcats, too, went to 2-0.
At 0-2 with just one game left on the schedule, Tonganoxie had lost its postseason livelihood.
And it showed as players filed out of the locker room. Some solemn, others fighting back tears.
With three costly turnovers on the Chieftains' final three possessions, the loss was devastating.
"We know we beat ourselves," junior quarterback Jeremy Carlisle said. "If we don't have three of those turnovers on our last three possessions, it's a completely different ballgame — we're in there (the locker room) cheering right now."
The first of Tonganoxie's last three drives against Piper (6-2) began with less than nine minutes remaining. The Chieftains (5-3) had picked up two first downs and were in the red zone, down just three points.
On second-and-seven, THS ran an option to the right side, but a pitch from Carlisle to senior DJ Lindsay was tipped by PHS and the Pirates recovered the loose ball with 6:46 to go.
The Tonganoxie defense forced a punt, but just three plays into the offense's possession, Lindsay fumbled the ball after a reception and Piper again came up with a takeaway.
Lindsay took the miscues to heart. On the sideline he was beside himself with anger.
"DJ is one of those people who's real hard on himself," Carlisle said. "… He works his butt off every play."
The Chieftains' defense responded once more and stopped Piper quarterback Jasper Sanders on fourth-and-goal. It was a stand that, despite the loss, made coach Mark Elston proud.
"We stop 'em on fourth down and that shows a tremendous amount of heart," Elston said.
However, the THS offense had only 1:04 remaining and 99 yards of turf to cover to reach the end zone. On first down, a deep Carlisle pass intended for Lindsay was picked off, sealing Tonganoxie's fate.
Elston said THS just hasn't been able to get over the hump in its two district losses — by a combined four points — and commended his team for playing some "outstanding football" since giving up a second-half TD on Sept. 25 at Wyandotte.
Senior running back Austen Holloway, who led the ground attack with 17 carries and 156 yards and scored a 45-yard TD with 10:54 left to put Tonganoxie in striking distance, said the back-to-back nail-biters were fun games in which to play. It was just the outcomes that were agonizing.
"It's heartbreaking … but I enjoyed every moment thoroughly," Holloway said. "It's tough to lose."
Piper got out to a 13-0 lead and never trailed but THS stayed close with a pair of TD connections between Carlisle and senior tight end Dylan Faulconer in the second quarter.
Impressively, both came on fourth down. Faulconer scored a nine-yard TD with 8:47 to go in the first half and was wide open for an eight-yard score a little more than five minutes later.
Down 19-14 after the second touchdown, THS went for an onside kick, which succeeded when junior Ian McClellan covered up the kickoff.
But the Chieftains couldn't capitalize on their good fortune.
On the drive's second play, it looked as if Lindsay would break a long TD run from the PHS 45-yard line but the speedy back was chased down by Piper at the 12-yard line.
That was just one of many examples of Piper's great team speed. A number of THS runs that would have gone much longer against other opponents were busted by Piper defenders who sprinted in from the back side.
"Other teams have had individuals that were fast," Elston said, "but not a collective group that could get to the football as quickly as they did."
In the red zone, THS was unable to score. Two short runs were followed by back-to-back incomplete passes, including one on fourth down from the nine-yard line.
Although Tonganoxie's defense didn't force any turnovers, the unit was solid, as usual.
Dane Gonser had one tackle for loss and Jeff Sims and Richie Ridihalgh combined on another. Jason Espeland and Jonas Myers combined for a sack.
The team also got a few big plays on special teams. Shawn Marin had a 30-yard punt return, Jeremy Wagner pressured the holder and got a tackle on a botched extra point and the line blocked another extra-point attempt.
It was difficult, Elston said, to watch his team play so well and see its postseason aspirations expire.
"To come up on the short end of the stick the past two weeks after playing with that kind of effort … hopefully they'll carry that with them down the road and continue to put forth that kind of effort," the 10th-year THS coach said.
Tonganoxie's season comes to a close Thursday, when the team travels to Kansas City, Kan., to take on Bishop Ward.