Playoff shutout:
THS

soccer victorious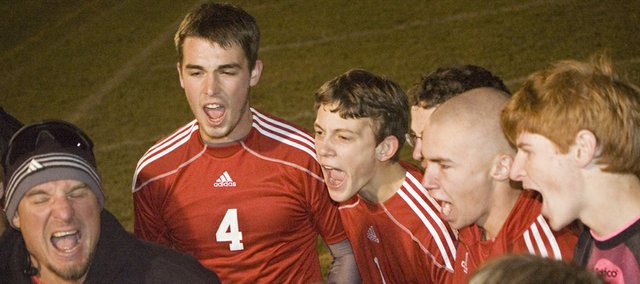 Photo Gallery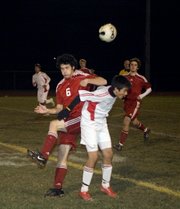 THS soccer wins playoff match
The Tonganoxie High boys soccer program got its first ever playoff win with a 2-0 victory at Atchison on Tuesday night.
Atchison — The Tonganoxie High boys soccer team made history on Tuesday night.
With a 2-0 defeat of Atchison at Amelia Earhart Field, the Chieftains won a playoff game for the first time since the soccer program split from one coed team to separate boys and girls squads.
It didn't take Tonganoxie (7-8-2) long to secure the lead. In just the second minute, freshman Matt Saathoff pounded in a free kick to put THS up 1-0.
AHS (9-8) left a big gap in its defense and Saathoff wisely put the ball through that window.
"I saw the opening on the right side and I decided to just kick it there," he said, noting he was confident his teammates would be crashing in for a rebound if the shot misfired.
THS coach Ken Lott knew the early goal was a good sign.
"It seems like every time we score a goal first, we play hard to the end," Lott said. "We knew we had to score early. That made the difference."
From that point on, THS was confident and keeping Atchison's keeper busy with attacks. Tyler Bartholomew, Tyler Woolworth, Matt Briggs, Jake Willis and Saathoff all fired shots, keeping the Chieftains aggressive.
Tonganoxie's defense, meanwhile, made sure Atchison didn't get back in the mix.
Freshman goalkeeper Keaton Truesdell, making just the fourth start of his career, left the playoff match with a shutout victory.
He had five saves (four coming in a busier first half) but the defenders in front of him protected him well.
Senior defender Keaton Schaffer stymied numerous AHS attacks by clearing the ball out and Jake Willis was too quick for Atchison's forwards throughout the match.
What also helped, Lott said, was Tonganoxie's strategy of rotating players around from position to position during the match. A man playing defender one minute, might be a midfielder of forward the next time down the pitch.
"We try to give teams a different look," Lott said, explaining that, ideally, the foe will have to mark several different players and get lost.
"It seems to work every time we try it," the coach said.
It wasn't until the 52nd minute that Tonganoxie padded its lead with a goal from senior forward Woolworth.
The degree of difficulty on the score was something to behold. Woolworth was following an AHS defender, who was playing around clumsily with the ball. The THS senior controlled the ball on the left side, pivoted and fired in one motion and put it over the AHS goalkeeper in the upper-right corner.
"I just hit the back side of the net, luckily," Woolworth said, adding that he usually makes that kind of a move for a cross, not a shot attempt.
The Class 4-3-2-1A playoff match marked the third time THS faced Atchison in the past nine days.
While Lott said he was "very nervous" heading into the match, Woolworth said the Chieftains weren't about to overlook Atchison — event with 1-0 and 4-1 victories fresh in their minds.
"We knew that we shouldn't come out cocky," Woolworth said.
Given the team's struggles the past few seasons, it was likely easier to stay humble.
Woolworth said it was special for he and his fellow seniors — Bret Koch, Preston Putthoff, Andrew Bouza, Mitch DeHoff, Matt Titterington, Kenny Schultz and Schaffer — to win a playoff match after struggling so much during their careers at THS.
"We're excited to go on to the regional championship," Woolworth said of advancing to the finals of Tonganoxie's five-team bracket.
The Chieftains are scheduled to play on Thursday evening in Overland Park at 5:30 p.m. A win there, would put them in the state quarterfinals.