Smoothie operators
THS

class offers lunchtime pick-me-up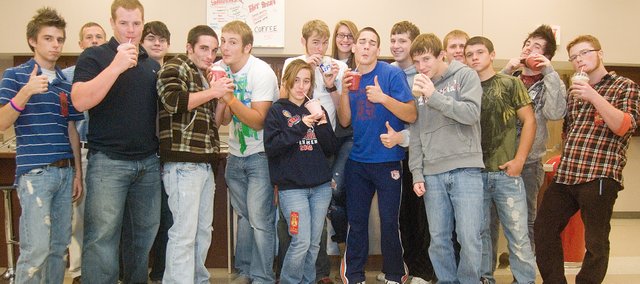 It's lunchtime at Tonganoxie High School, and students are flocking to the Chieftain Room.
With the commons area filled with air hockey tables and a Nintendo Wii system replete with Rock Band and Mario Kart, it would seem that students come just for the entertainment. But the main draw happens to be a counter against the north wall of the room.
The Smoothie Shack, run by the THS entrepreneurship class, has opened up for its second year of business. According to instructor Jared Jackson, the project is designed to give students in the class first-hand knowledge of what it takes to run a business.
"They learn basic workplace skills, how to handle money, how to take inventory, customer service skills, and just how much work is involved in a business," Jackson said. "They learn that the little things are usually the things that matter the most."
Though students may have less money than usual these days because of more difficult economic times, business has been good this school year. So good, in fact, the class was able to add more flavors to its menu.
For example, "hurricane" and banana-flavored smoothies are new to the menu. The hurricane flavor is a cherry-based fruit punch flavor. And visitors can also purchase smoothies from the Smoothie Shack. They just need to check in at the office on the east campus and then can purchase a smoothie at the nearby Chieftain Room.
"We've also been able to send students to the west campus lunchroom so the underclassmen can purchase smoothies if they want," Jackson said.
According to Jackson, students enjoy the smoothies because they're a treat you can't normally get at school. Senior MaKenzie Armstrong agrees.
"They're fantastic," Armstrong said emphatically. "They give a quick pick-me-up to get me through the rest of the day."
Students in the class enjoy working at the Shack, too.
"I've learned a lot about business that'll help me later in life," senior Dylan Young said of his experience at the Shack. "We've learned about smart pricing decisions and inventory."
The idea for the Smoothie Shack was born when the class started in the fall of 2007. Students brainstormed about a project, and Jackson said students thought a smoothie stand would be a good idea. During this past school year, when work on the Chieftain Room was still under way, THS assistant principal Brent Smith and activities director Brandon Parker viewed something similar at Hesston High School. From there, the Smoothie Shack was constructed at the Chieftain Room.
Though the Smoothie Shack has been a successful endeavor, the entrepreneurship class doesn't just focus on smoothies. This year, students have been participating in a stock market game, which, according to Caleb Wager, also a senior, is almost better than the real thing.
"The game uses actual companies," he said, "but we don't lose any actual money when their stocks go down."
Of course, students don't gain any actual money when stocks go up, either.
But The Smoothie Shack isn't all work and no play.
"It's a pretty fun way to hang out with your friends, too," Young said.
— Baragary, who is a THS senior, is working as an intern this school year for The Mirror.