THS

senior finishes race just in time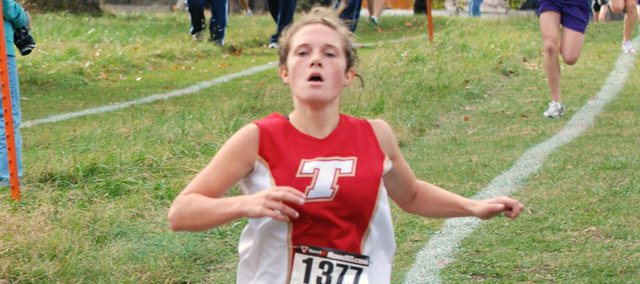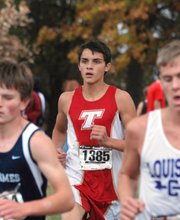 Tonganoxie High came very close to being unrepresented at the state cross country meet for the second year in a row.
But that disappointment was averted Saturday at Wyandotte County Park, when Chieftains senior Andie Jeannin finished 16th in the girls 4K, snagging the fifth and final state invitation for runners from non-qualifying teams.
With automatic bids going to the teams who finish in the top three — Baldwin, De Soto and St. James Academy in the girls race — there were just five individual berths being handed out to runners from other schools.
When Jeannin finished the course in 16:42, she was just in time, securing her spot as the fifth and final runner to qualify for state.
The THS senior said a strong start put her in position to return to state for the third time during her prep career.
"I knew I was close," Jeannin said, explaining that spectators started yelling at her to let her know she had a chance with about 400 meters to go.
There were two runners ahead of her for the last spot at that time, but she passed them both to earn a state trip.
The THS girls went to state as a team Jeannin's freshman year and she qualified as an individual as a sophomore. She said she entered her senior regional with a different attitude after failing to qualify for state as a junior.
"I was almost getting cocky," Jeannin said of her mindset on Saturday, "and it worked."
She expects to have an improved attitude this Saturday when she heads to Wamego for the upcoming state meet, too. Jeannin said she was just content to be there as a sophomore.
"I think I'll feel a little more competitive this time," she said.
As a senior, why wouldn't she?
"This is going to be like my last race — ever," Jeannin said. "I want to do good."
Coach Phil Williams said he wouldn't be surprised if Jeannin performs at an even higher level at state.
"Obviously, Andie ran well," he said, "but I think she can run even better."
Girls place 6th
Despite Jeannin's high placing, the Tonganoxie girls team didn't score low enough to finish in the top three.
However, Williams said it was one of the squad's best efforts of 2009.
"I thought the girls ran about as well as they had all season," he said.
Junior Alex Hauk placed 30th in the 4K, which Williams said was a boost. Not far behind her were Shelby Maxon, 34th, and Nikki Beggs, 35th.
Williams noted that THS, which finished sixth in team scoring, only missed out on fifth place by one point.
THS boys 8th
Tonganoxie's boys team might have maxed out early in the 5K as the team finished eighth in the team standings.
Williams said the boys probably overexerted themselves in the opening stage of the race and paid for it later.
"Our boys went out too fast early and weren't able to hold on during the last half of the race," the coach said. "Their effort was good, but it probably was not a wise move."
Caleb Himpel acknowledged that, before the race started, he and his teammates talked about getting ahead of the pack because their pace could be slowed by crowds on a narrow course.
The strategy, however, wasn't enough to get the Chieftains any state berths. Dalton Harrington was the squad's top finisher, placing 29th with a time of 18:31.
As for Himpel, who often has led the way for THS this season, he finished 42nd. He was disappointed in his 19:08 finish.
"I think as a team we all ran pretty good, but individually I think my race was terrible," Himpel said.
Himpel said he normally begins with a quick pace and he was flabbergasted by his time, unable to figure out what happened.
"I don't know," he said. "I wish I knew."
Williams said he hopes the boys will remember the regional race in the future.
"Hopefully," the coach said, "the experience will be something they learn from next year."
Class 4A cross country regional
At Wyandotte County Park
Girls 4K
State-qualifying teams: 1. Baldwin, 35; 2. De Soto, 55; 3. St. James Academy, 93.
THS results: 16. Andie Jeannin, 16:42; 30. Alex Hauk, 17:42; 34. Shelby Maxon, 17:59; 35. Nikki Beggs, 18:03; 55. Lindsay Cox, 19:32; 57. Parker Osborne, 19:34; 60. Cristina Rubio, 19:52.
Boys 5K
State-qualifying teams: 1. De Soto, 25; 2. Baldwin, 42; 3. Paola, 85.
THS results: 29. Dalton Harrington, 18:31; 42. Caleb Himpel, 19:08; 46. Patrick Rachford, 19:13; 52. Brady Field, 19:58; 55. Justin Soetaert, 20:05; 62. Joel Dunning, 20:25; 63. Keith Slater, 20:28.