Businesses gear up for Spooktacular festivities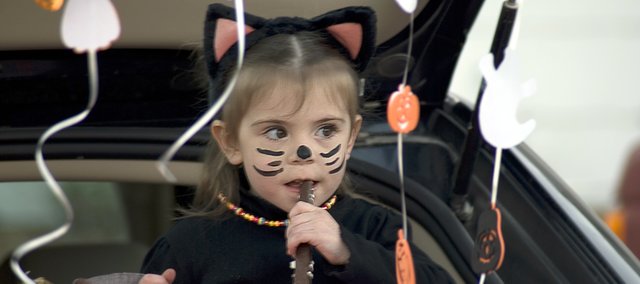 Cheryl Hanback hopes to see several costumed youths meandering Friday through downtown Tonganoxie.
The second annual Spooktacular event is scheduled for 6-8 p.m. Friday at Tonganoxie Elementary School and at downtown businesses.
More than 20 businesses will be open for trick-or-treaters, said Hanback, who is Tonganoxie Chamber of Commerce director.
In fact, from 6-7 p.m., one business, Kelly Law Office, 512 E. Fourth St., will have a costume judging contest. Prizes will be awarded at 7 p.m. and contestants must be present to win. The contest is open to youths 12 years of age and younger. There will be three cash prizes — $50, $25 and $10.
Hanback said many communities have celebrations in their downtown areas at Halloween time. She said it's a great way to promote businesses in the downtown district.
"But it's a nice gathering spot and we're trying to get people to appreciate our downtown and the beauty of it," Hanback said.
She also said it would be a plus to have sunlight when the event gets started, as daylight saving time doesn't end until Sunday morning. And she would love to see ideal weather, which was the case at the first Spooktacular.
"We're hoping for beautiful weather again this year," Hanback said.
Anyone with questions about Spooktacular can call the chamber office, (913) 845-9244
Other activities scheduled for Friday and Saturday in Tonganoxie:
• Hot cocoa, coffee and Halloween treats will be offered from 6-8 p.m. Friday at First Congregational Church, 303 E. Fourth St., in Tonganoxie. The church is just east of Tonganoxie Elementary School.
• Bring your little ghosts and goblins and join the Tonganoxie Nursing Center for "some ghoulish good times" from 6:30-7:30 p.m. "or until the candy runs out" Friday at the nursing center, 1010 East St.
• The 2009 Fall Festival and Hallapalooza will be 6 p.m. for youths in sixth grade and younger and 7 p.m. for youths in seventh through 12th grades Saturday at Tonganoxie Christian Church, 204 Washington St. in Tonganoxie.
Saturday in McLouth
The McLouth United Methodist Church will play host to its sixth annual "Trunk or Treat" from 6-7:30 p.m. Saturday in the parking lot of the church, 400 S. Summit. Everyone in the community is welcome to decorate the trunks of their cars and distribute candy to the gremlins and goblins who come by. Youths of all ages are welcome.