Physician meets community at open house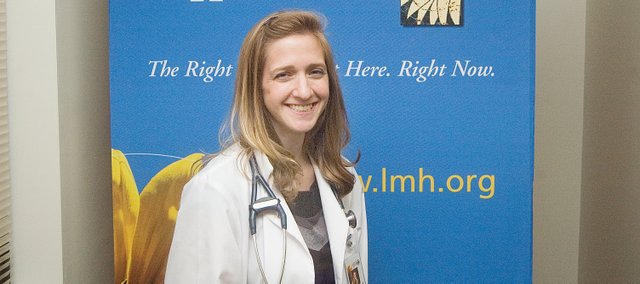 When Dr. Elizabeth Beal started working at Family Medicine of Tonganoxie earlier this year, the transition into a new job was seamless.
The first day I felt like I'd been here for a long time," she said. "Everyone was so nice."
Beal, who started at the Lawrence Memorial Hospital-affiliated clinic Aug. 17, had the opportunity to meet even more people in the community Monday during an open house at the clinic.
Originally from Great Bend, Beal moved to nearby Larned when her father became police chief there. A graduate of Larned High School, Beal later graduated from Wichita State University in 2002 with a bachelor's degree in Spanish and field majors in biology, physics and sociology and a minor in chemistry. In 2006, she received her medical degree from the Kansas University School of Medicine and completed her residency in family medicine in 2009 at Research Medical Center in Kansas City, Mo.
Her husband, Casey, is a mechanical engineer and pilot who is working toward a commercial pilot license.
Beal, who is 30, has lived in Basehor the past 6 1/2 years and before joining Family Medicine of Tonganoxie she joked that she previously had been to the community "about once a year" to pay taxes and registration at the Leavenworth County Annex across the street from the clinic.
Now in Tonganoxie far more frequently, Beal, who is 30, said she has gotten to know the town and has been "welcomed by many people in the community."
She said she also was impressed with LMH when she interviewed for the position.
"Everyone was so nice and upbeat about their jobs and the community," Beal said.
The open house also gave residents a chance to see the new addition to the family clinic.
Bob Harvey, director of family practice clinics for LMH, said the addition took about eight weeks to complete. When the clinic was constructed in 2004, two exterior walls and a foundation jutted to the back, or north side of the clinic, with plans for an addition to be built in that space in the future. Now complete, the 1,600-square-foot addition mirrors the original clinic, with three exam rooms, bathroom and a doctor's office. Harvey said another room currently is used for storage but will be a procedure room at some point.
The addition brings the clinic's area to 3,950 square feet. A basement spans about a third of the original building underground, Harvey said.