THS

football falls at Ward, 14-7
Chieftains' offense struggles in season finale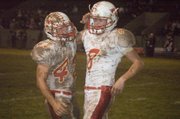 Kansas City, Kan. — A few mistakes on a slow and sloppy muddy field cost Tonganoxie High from closing its football season in the victory column.
Although the Chieftains took an early first-quarter lead, they couldn't find the end zone the rest of the evening at Dorney Field and fell to Bishop Ward, 14-7.
A fumble recovery by THS senior lineman Dane Gonser gave Tonganoxie (5-4) a short field with 3:51 remaining in the first quarter.
Six seconds later, Tonganoxie quarterback Jeremy Carlisle hit a wide-open Justin Jacobs down the right sideline on first down for a 38-yard score on the team's third possession.
But that was the last time THS reached the end zone as Ward (6-3) didn't even allow the visiting Chieftains in the red zone on their next seven possessions.
Early in the second quarter, Tonganoxie forced Ward to punt, but was flagged for roughing the kicker, and the Cyclones turned the second chance into a scoring drive that tied the game.
On the Chieftains' next drive, Carlisle was picked off (his first of three interceptions) and Ward responded with a 10-play, 74-yard drive that ate up most of the remaining first-half clock.
Tonganoxie's defense shut out the Cyclones in the second half.
Senior linebacker Jeremie Maus blitzed early and often to cause trouble in Ward's backfield, and teammates Jonas Myers, Ian McClellan, DJ Lindsay, Jacobs and Gonser also tackled for losses in the game.
The Chieftains lost all three of their district contests to end their season on a three-game losing streak but the trio of disappointments came by a combined 11 points.
THS finished 2-3 in the Kaw Valley League.
Score by quarters
THS 7 0 0 0 — 7
Ward 0 14 0 0 — 14
Scoring
T — Justin Jacobs 38 pass from Jeremy Carlisle. Amos White kick.
W — Cole Muder 9 pass from Peter McKieman. Jacob Kolenda kick.
W — Michael Golubski 1 run. Kolenda kick.
THS rushing: Jeremy Carlisle, 15-35, Jeremie Maus, 6-26, Austen Holloway 7-26, DJ Lindsay 5-16.
THS passing: Jeremy Carlisle 4-11-99 three intercepted.
THS receiving: Justin Jacobs 2-52, Dylan Scates 1-30, Dylan Faulconer 1-17.