Ft. Leavenworth commander to develop leaders in Afghanistan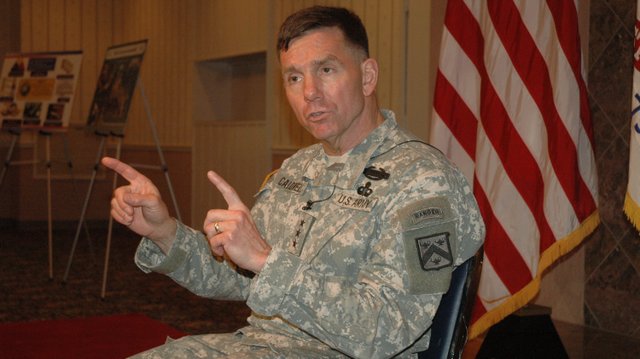 FORT LEAVENWORTH — A leader coming to the end of one position and embarking on a new one spoke about the importance of developing strong and capable leaders in Afghanistan following Friday's community brunch and award ceremony at Fort Leavenworth.
U.S. Army Lt. Gen. William Caldwell, who is vacating his position as the Fort Leavenworth and Combined Arms Center commanding general on Monday, will soon be heading to Afghanistan to serve as commander of the newly established NATO Training Mission-Afghanistan headquarters. His position was confirmed Thursday by the U.S. Senate.
"We've made leadership development our number one priority (here)," Caldwell said during a press conference regarding the NATO mission. "That same philosophy of developing leaders is paramount (in Afghanistan) too."
Under these new headquarters, Caldwell will have what he called a "dual-hatted" position as the commander of both the Combined Security Transition Command-Afghanistan and NATO-ISAF, which will combine into one organization. Caldwell will help to not only facilitate leaders among the Afghan national security forces, but will also help train those leaders to develop leaders themselves. He said this mission could be long-term, but helping to sustain leadership among Afghan soldier and police forces would greatly help to shorten the amount of time the United States was in Afghanistan.
"Train them to train more people, so we don't have to be there forever," Caldwell said of the purpose of the NATO Training Mission.
Caldwell said there were three components to building strong leaders: education, training and experience. Though Afghanistan has much experience with warfare, Caldwell said, its military forces were lacking in other, crucial areas that could help move the country forward.
"What Afghanistan needs more experience in is the training and the education side," Caldwell said.
Other priorities of the NATO Training Mission, Caldwell said, would be to assist Afghanistan in creating a government its people could take seriously and would be proud to be a part of. He said it was important not to come into the country with any preconceived notions about how the country's government should run.

"Clearly we have to have a legitimate government that we're all there working in support of," Caldwell said. "We have to be careful we do not try to impose on them something that is foreign. It has to be something they want."
The NATO Training Mission won't be successful on its own, Caldwell said, but would need help from many other areas of the U.S. Government to make an impact. He said it was important to remember that, "although the military is necessary, it will never be sufficient."
"Anything we do here, we have to do in a comprehensive manner," Caldwell said.
Keeping the public informed through strong media engagement would also be crucial to the success of the mission, to which Caldwell said the U.S. Government had given such resources as money to finance it and military personnel to run it.
"We have an obligation to be as transparent and as open (as possible), and explain to the people how we are using those precious resources," he said.
Caldwell's talk followed an award ceremony honoring retired Lt. Gen. Robert Arter, who was presented with the Distinguished Civilian Service Award for his post-retirement service to the armed forces. During the award ceremony, Arter presented Caldwell with a proclamation signed by Gov. Mark Parkinson honoring Caldwell's more than two years of service at Fort Leavenworth and his 33 years of service in the military.
As a main training ground and educational center for those in the U.S. Army, Caldwell said Fort Leavenworth would play a pivotal role in military operations in the coming years.
"We literally shape and influence the mid-grade officers across the entire U.S. Army," Caldwell said. "We teach every single one. The impact you can have is phenomenal."
Fort Leavenworth officials say a new commanding general to take Caldwell's place has yet to be named.
More like this story