MHS

cross country to compete as team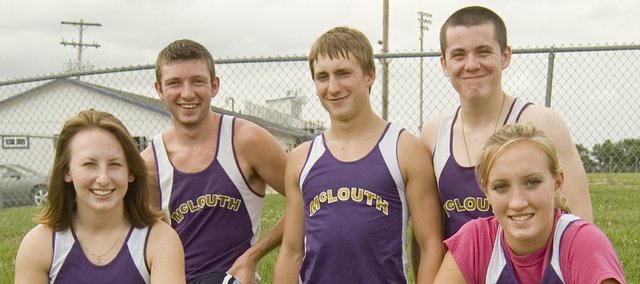 McLouth High's cross country runners can finally call themselves a team.
The past few years, there weren't enough Bulldogs on the roster for MHS to compete in the team standings at events but that is no longer a case.
On Day 1 of practice this pre-season, there were enough girls to field a team but only two boys. A little recruitment upped the number to five — the bare minimum required to compete as a team. Needless to say, third-year MHS coach Jamie Noll was ecstatic to see 12 total runners practicing this past week after coaching a few individuals the previous two years.
"It's very, very exciting," Noll said, adding the program has taken a step in the right direction. "I was glad to see so many of them."
She said the new dynamic is already paying dividends at practice, where times are dropping.
"I think everybody's motivation is higher just because they've got more competition now, so they're being pushed more in practice now than they were in the past," Noll said.
Of the seven girls competing for McLouth this year, three return from last season: senior Anne Courtney and sophomores Caroline Overbaugh and Brittany Schuman. New to the team are Kayla Blevins, Miranda McLaughlin, Jordan Sparks and Emily Welsh.
Schuman said the girls are excited about having the chance to compete for team medals after essentially running alone last season.
"We wanted a team last year but nobody wants to run two and a half miles," Schuman said.
The girls squad sold newcomers on cross country by focusing on the fitness benefits participation would bring to athletes who compete for other teams, such as basketball and track.
Through the first few weeks of practice, Noll said sophomore Welsh has impressed.
"Emily has looked extremely strong but the rest of the girls have been in a pack close behind, which is exciting because they really push each other," Noll said.
Among McLouth's boys, junior Derek Wright, the team's only experienced runner, is expected to lead the way. Joining him are Dakotah Cline, Justin Johnston, Sean Owens and Cody Winborn.
Wright is glad to have some teammates to push him in cross country.
"Last year all we did was run on our own because there wasn't very many of us," the junior said. "This year we have a lot more people to run against."
Running the course with a new objective — scoring well as part of a team — might take some adjustment but after the Bulldogs compete at a few races, Wright thinks they will get the hang of it.
"This is the first time I've been on a team and we're thinking we could be pretty good," he said.
Noll said both teams have potential and she is looking forward to coaching them.
"I'm curious to see when we start (on Thursday) how they can place with the other competition," the coach said.
The MHS runners open their season at 4:30 p.m. Thursday at Shawnee North Community Center in Topeka for the Jeff West Invite.