Young Bulldogs ready to be broken in on the gridiron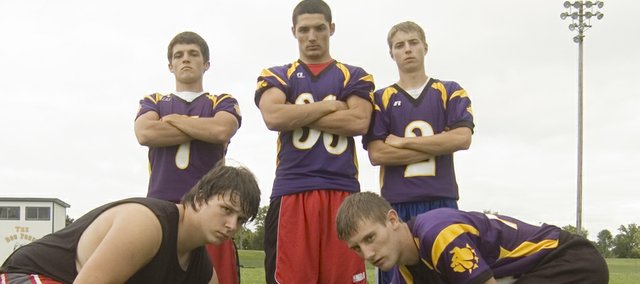 A youth movement is developing on the McLouth High football team.
Of the squad's 26 players, just five are seniors. Only three are juniors. That leaves 18 Bulldogs a little wet behind the ears.
The good news is some of the sophomores, such as starting running back Alex Courtney, got game experience in 2008. McLouth coach Chris Stewart said the sophomores will be relied upon heavily this season and he expects them to be productive football players once they have enough seasoning.
"I think this year will be their break-in year," Stewart said, noting Tim Culter and Cody McHenry as other sophs who could shine right away.
The second-year coach said the team's youthful makeup will force a lot of players — even some freshmen — to learn on the fly. Stewart doesn't mind doing that with an enthusiastic sophomore class of 10.
"They like football, they're big kids and (we're) just trying to get them experience so that when they're juniors they're really ready to play some football," Stewart said.
In the meantime, McLouth's seniors — Chris Culter, Tyler Drinnon, EJ Field, Kyle Mabary and Dacoda Reusch — will help out the youngsters. Reusch said the underclassmen are eager to learn and asking the right questions.
Chris Culter said the seniors want to have a successful year and the young guys are ready to step up and help them.
"We've got some young guys playing but they're gonna be good," he said. "They're working hard for us."
McLouth's youthful look will be noticed all over the gridiron, including at quarterback. Heading into this week's season opener, Stewart hadn't announced who will be the team's starter but sophomore Calvin Booth and freshman Marc Walbridge were battling for the job. Reusch thought that wasn't a problem.
"I always think competition is a good thing because they're pushing each other to be better," the senior lineman said. "By the first game, it'll be decided."
Other key MHS players are underclassmen, too. Sophomore Shawn Dailey will see a lot of touches at running back, soph Alen Kramer will be an anchor on the defensive line, Courtney is one of the team's top linebackers and Tim Culter is expected to contribute in the secondary. Only Field, who could be used at defensive end or linebacker, and junior linebacker Shane Cassatt are upperclassmen who figure heavily into the mix.
Field, who transferred to McLouth from Tonganoxie late this summer, said he thinks his new team's top returning defender, Cassatt, has the perfect style.
"He really flies to the ball and likes to hit," Field said of Cassatt. "He hits 'em hard and makes sure they don't get past him. I think that's what this team needs."
The Bulldogs' relative inexperience and lack of much size has left Stewart unsure of what the team is capable of in 2009. His minimum expectation is that the Bulldogs improve on their '08 season, when they finished 2-7 overall after winning their first two games.
"Hopefully we'll get in there and we'll be able to surprise some teams and play some good football," Stewart said.
Senior receiver and defensive lineman Chris Culter said it will be up to the team's few elder statesmen to make sure McLouth doesn't look young against its foes.
"We've got to be leaders, just step up and show them how to play and they'll probably follow along our footsteps and step up for us," he said.
The Bulldogs open their season with a road game kicking off at 7 p.m. Thursday against Immaculata in Leavenworth.