Advance voting available for Sept. 22 election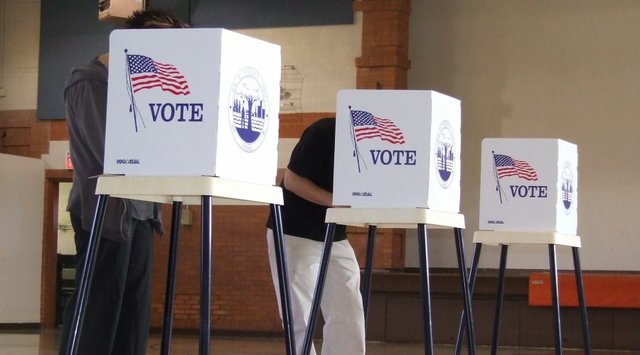 A special election that will determine the fate of Sunday retail liquor sales in Tonganoxie is right around the corner.
Voters who can't wait for Sept. 22, though, can cast their votes in advance.
Advance voting begins today at the Leavenworth County Courthouse.
According to Leavenworth County Clerk Janet Klasinski, registered voters may vote in advance by filling out an application online at www.leavenworthcounty.org or visit the county clerk's office at the courthouse, 300 Walnut in Leavenworth, to fill out the application and vote there.
The county clerk's office is open from 8 a.m.-5 p.m. on weekdays. Klasinski noted she likely would need to have applications into her office by Sept. 17 so she could then send out ballots to advance voters. Advance ballots would need to be back in her office by 7 p.m. election day, Tuesday, Sept. 22.
Though Sacred Heart Catholic Church, 1100 West St., and the Tonganoxie VFW Post Home, 910 E. First St., are the polling sites on election day, advance ballots cannot be dropped off at those sites. Instead, if advance ballots are being delivered in person, they must be taken to the courthouse.
In addition, voter registration continues until 5 p.m. Tuesday and can be done at the courthouse, Tonganoxie City Hall, 321 Delaware, Tonganoxie Public Library, Third and Bury streets, and the Leavenworth County Annex, U.S. Highway 24-40 and Laming Road.
Other registration sites in the county include public libraries and city halls.
Klasinski said voter registration normally ends on a Monday, but because Labor Day is Monday, the registration deadline has been extended.
The special election will decide whether retail alcoholic beverages will be allowed in Tonganoxie on Sundays and select holidays.
Currently, retail sales are not allowed in Tonganoxie on those days. Sales had been allowed on select holidays, but not Sundays. However, earlier this year, it was determined, according to state law, that cities could not pick and choose when liquor stores could operate — either they could be opened on Sundays and those select holidays, such as Independence Day and Memorial Day — or not at all.