Nearly $4,000 raised for officer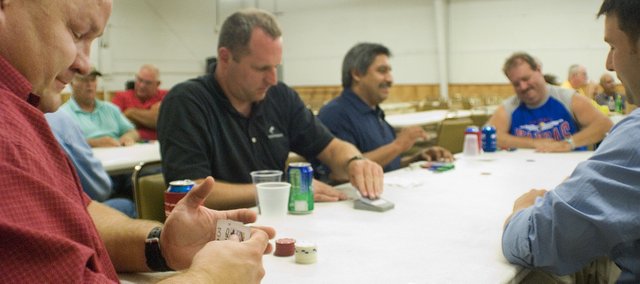 Tonganoxie Police Lt. Tony Hernandez said he's never really played poker, but fortunately many of his friends and family did.
On Saturday more than 40 players anted up for the Texas Hold 'em Poker tournament held at the Leavenworth County Fairgrounds to help raise money for Hernandez.
In October, Hernandez was diagnosed with lung cancer. The fundraiser was to help Hernandez and his family pay for the medical expenses that he has accrued during the last year. Despite receiving treatment for the cancer, Hernandez said he was recently placed in hospice care and has been given four to six months to live.
"I take it one day at a time and I try not let it get me down," Hernandez, a 37-year veteran of law enforcement, said about his diagnosis.
The night started at 6 p.m. with plenty of food, chatting, buying of raffle tickets and bidding on items at the silent auction before people got down to business at the poker tables.
As more hands were dealt, the pool of players became smaller and smaller while the chip piles of the top four players got bigger and bigger.
The tournament's big winners were: Billy Adcox, who won first place, two tickets and a parking pass to a Kansas City Chiefs game and a $45 gift certificate to Outback Steakhouse; Christiana Jackson, who won second place and also two tickets and parking pass to a Chiefs game; Craig Westbrook, who placed third and got a $45 gift certificate to Outback Steakhouse; and Mike Mikesic, who placed fourth and won four tickets to the Renaissance Festival.
Those who didn't have many good hands also tried their luck at some of the raffle prizes, which included two handguns, a .22 caliber rifle and a shotgun, or bid on items at the silent auction. The auction items included a restored fire hydrant, quilts and paintings from the late Ernst Ulmer.
But Saturday night's biggest winner was Hernandez and his family because the event brought in nearly $4,000.
Tanya Hawkins, who organized the event, said it was a success despite having less poker players than expected.
"I think everybody had a good time," Hawkins said Monday. "I want to thank everybody who made donations and who helped out."
Even though he no longer is on patrol duty anymore, Hernandez said there still was plenty of administrative work to do at the police station and he would continue going as long as he is able to.
Adam Bryant acknowledged Hernandez's plan when he introduced the man of the hour during the tournament, stating: "That's the way he is; there is just no quit in this guy."
Monetary donations can be made to the "Friends of Tony Hernandez" account at First State Bank and Trust.