She's a sunflower
State flower attracts visitors to local fields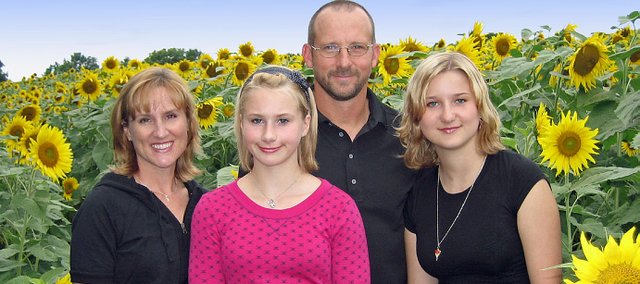 For years the Grinter family has been planting sunflowers. Once again the sunflowers are in full bloom just off U.S. Highway 24-40 between Tonganoxie and Lawrence. Ted Grinter answers our questions about his family's sunflower tradition.
Q: How many years have you been planting sunflowers and where can people view them?
A: My father started growing sunflowers in the mid '70s, so around 30 years.
People can view the sunflowers either in person near our home at 24154 Stillwell Rd., Lawrence, or online on my wife Kris' blog: krisgrinter.blogspot.com. There is a link to Mapquest on that site with the field's location.
Q: Do you know roughly how many sunflowers come up each year?
A: I plant somewhere close to 20,000 seed per acre, so this year around 600,000 sunflowers came up.
Q: Have your sunflowers attracted interest nationwide?
A: Yes, they have been in Everyday with Rachael Ray magazine, featured by the Associated Press, and most recently, the "Dr. Oz Show" came out to shoot some film for his new show. People have driven from Michigan, Illinois and several other states just to see them.
Q: What got your family interested in planting sunflowers?
A: My dad was ahead of his time. More than 30 years ago, he wanted to use the sunflower oil for fuel in our machinery. But K-State at the time didn't want to do any experiments with it.
Q: Are there any guidelines for people who want to view the fields of sunflowers?
A: This year, wear your mud boots.