Aggressive
THS

beats Bobcats, 2-0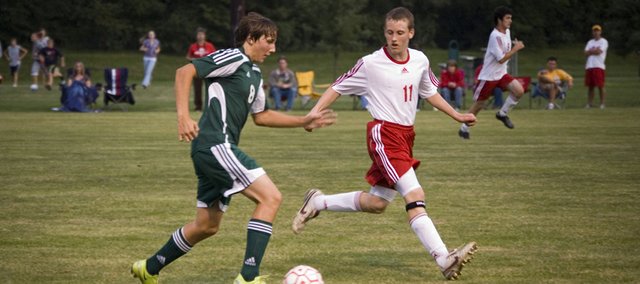 When Basehor-Linwood fired a shot on goal in the first minute of action at Tonganoxie High on Thursday night, it appeared the Bobcats would be the aggressors.
However, a soccer match lasts 80 minutes for a reason, and for the remainder of the contest, the tables turned as the Chieftains bombarded Basehor's goal and won, 2-0.
A shot by Dakota Foster in the opening minute proved to be one of few opportunities for BLHS and Tonganoxie goalkeeper Mitch DeHoff thwarted that rare attempt.
The Bobcats didn't get another really good look until the 83rd minute, when a Destry Bryan attempt ricocheted off the crossbar.
Tonganoxie (1-1-1), however, was assertive with its passes and runs throughout the night and capitalized early with its offensive fervor.
Joseph Parrino gave THS a 1-0 lead in the 17th minute, when he stopped and turned on the right side and put a shot out of the reach of BLHS keeper Ryan Lawless.
The Chieftains scored again in the 22nd minute. This time, Parrino pushed the ball ahead of the BLHS defense to Bret Koch, who placed a perfect, right-to-left shot past Lawless' outstretched arms.
The Bobcats goalie performed admirably considering the assortment of attacks he saw. Parrino, Matt Briggs, Jake Willis, Tyler Woolworth and Koch all had shot attempts — Woolworth and Parrino had plenty — and Tonganoxie couldn't muster a third goal.