Air ambulance sent to two-vehicle accident in Tonganoxie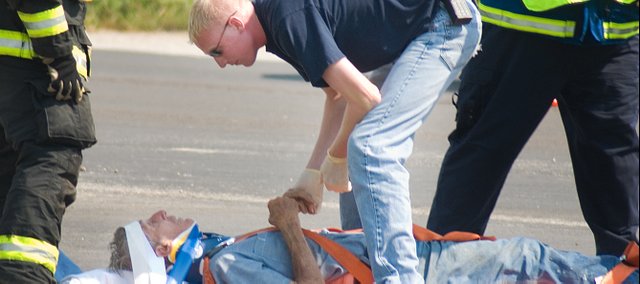 A two-vehicle accident that occurred just after 3 p.m. Thursday in Tonganoxie left two people injured, one of whom was taken by air ambulance to an area hospital.
Air ambulance transported Celesta Doege, Tonganoxie, who was a passenger in one of the trucks, to Kansas University Hospital. The driver Albert Doege, Tonganoxie,was taken by ambulance to an area hospital, but preliminary Tonganoxie police reports did not say which hospital. The driver of the other vehicle, Keith McCown, Winchester, was not injured, according to police.
The accident occurred just after 3 p.m., when a 1995 Dodge truck, driven by Albert Doege, was traveling east on U.S. Highway 24-40 and attempted to make a left turn onto Laming Road and pulled in front of a 2000 Ford truck driven by McCown, who was traveling west on U.S. 24-40.
McCown was believed to be wearing a seatbelt, reports said.
The Doeges were believed to not be wearing their seatbelts, according to reports.
Celesta and Albert Doege were treated and released from KU Hospital, an official there said Tuesday.