Chieftains split cross country dual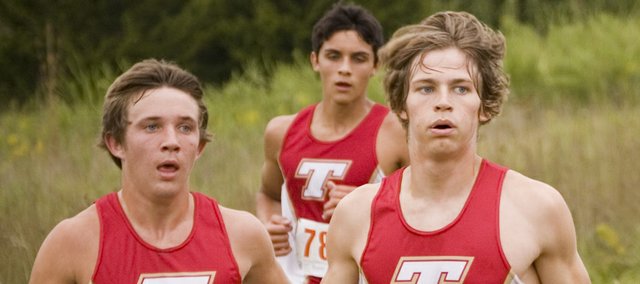 Tonganoxie High's cross country teams split their season-opening dual with Lansing on Thursday as the boys cruised to a 23-point victory with seven of the top eight runners in the 5K.
Although the Lions' Pete Lamoe finished in an impressive 16:37, a gang of Chieftains crossed the finish line before a second LHS runner could. Caleb Himpel finished second with a time of 18:34 and was followed by teammates Dalton Harrington, Keith Slater, Justin Soetaert, Patrick Rachford, Joel Dunning and Cooper Gish.
In the girls 4K, Lansing got the better of Tonganoxie, winning by 12 points.
Andie Jeannin, who finished second with a time of 16:25, placed second in the race, which was won by Lansing's Lauren Jaqua.
Two other Chieftains finished in the top seven and received a medal. Alex Hauk was fourth and cross country newcomer Shelby Maxon placed seventh.
Girls 4K
Team scores: Lansing 23, Tonganoxie 35
THS individual results
2. Andie Jeannin, 16:25; 4. Alex Hauk, 17:34; 7. Shelby Maxon, 18:15; 10. Nikki Beggs, 19:05; 12. Sarah Williams, 19:32; 13. Cristina Rubio, 19:36; 14. Lindsay Cox, 20:21.
Boys 5K
Team scores: Tonganoxie 20, Lansing 43
THS individual results
2. Caleb Himpel, 18:34; 3. Dalton Harrington, 18:49; 4. Keith Slater, 18:53; 5. Justin Soetaert, 19:11; 6. Patrick Rachford, 19:46; 7. Joel Dunning, 19:56; 8. Cooper Gish, 20:19.